Popular Nigerian kid comedian, Emmanuel Samuel has been crowned the winner of the "Favourite African Social Media Star" category in the just ended 2021 Nickelodeon Kids Choice Awards.
The 2021 edition of the award came off last Saturday, March 13th, 2021, with no live audiences but rather via a virtual show due to the outbreak of the deadly COVID-19 pandemic, the event was hosted by Kenan Thompson.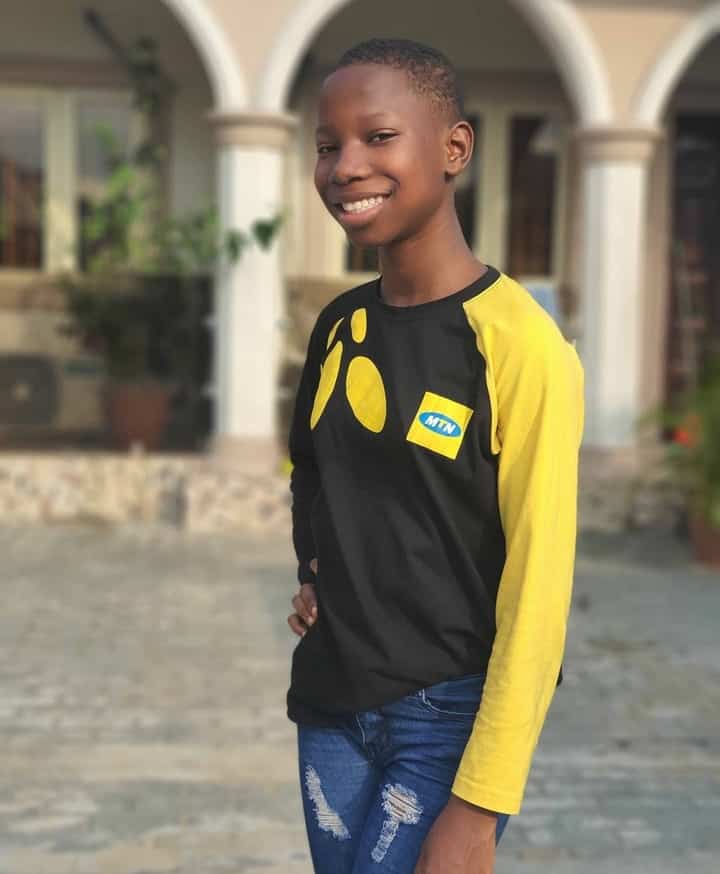 Emmanuella managed to beat the likes of; Ikorodu Bois who are also from Nigeria, as well as other talents from Africa in the same category including Elsa Majimbo (Kenya), Ghetto Kids (Uganda), Wian Van Den Berg (South Africa), and Bonang to become the winner.
Emmanuella [

winner

]
Bonang
Elsa Majimbo
Ghetto Kids
Ikorodu Bois
Wian Van Den Berg
The young comedian after winning shared a few words to show how joyful she is to be honored by a win in the prestigious award scheme.
"Congratulations to me as I won the Favourite African Social Media Star category at the Nickelodeon's Kids' Choice Awards 2021.

"🙈 I am so happy to be a winner, thank you! To all my fans out there, [I say] thank you. To all those who voted for me, I love you so much, this win would not have been possible without you.

"The young star also took the opportunity to urge viewers not to "forget to stay safe". "Always stay at home and remember to clean your hands with alcohol-based hand sanitisers. We love you so much", she added.
Still talking about Africa, aside the young comedian Emmanuella Samuel, the likes of Liverpool Football Club soccer star, Mo Salah won the Favourite African Star award at the 2021 Awards, while Uganda's own Vanessa Nakate who is a Ugandan climate justice activist also emerged as 'Together for Good' winner for her efforts in promoting climate justice pledged to "continue educating the society about the effects of climate change.
Well, we at Townflex.com will like to say a big thank you to the winners from Africa, for making the continent proud.
See below the full list of winners at the 2021 Nickelodeon Kids Choice Awards.
(AFRICA) 
FAVOURITE AFRICAN SOCIAL MEDIA STAR 
Emanuella
TOGETHER FOR GOOD (AFRICA) 
Vanessa Nakate
FAVOURITE AFRICAN STAR 
MO-SALAH
(TELEVISION) 
FAVORITE KIDS TV SHOW
Alexa & Katie
FAVORITE FAMILY TV SHOW 
Stranger Things
FAVORITE REALITY SHOW 
America's Got Talent
FAVORITE ANIMATED SERIES 
SpongeBob SquarePants
FAVORITE FEMALE TV STAR 
Millie Bobby Brown
FAVORITE MALE TV STAR 
Jace Norman
(FILM) 
FAVORITE MOVIE 
Wonder Woman 1984
FAVORITE MOVIE ACTRESS 
Millie Bobby Brown
FAVORITE MOVIE ACTOR 
Robert Downey Jr.
FAVORITE ANIMATED MOVIE 
Soul
FAVORITE VOICE FROM AN ANIMATED MOVIE 
Anna Kendrick
(MUSIC)
FAVORITE FEMALE ARTIST 
Ariana Grande
FAVORITE MALE ARTIST 
Justin Bieber
FAVORITE MUSIC GROUP 
BTS
FAVORITE MUSIC COLLABORATION 
"Stuck with U" – Ariana Grande & Justin Bieber
FAVORITE SONG 
"Dynamite" – BTS
FAVORITE GLOBAL MUSIC STAR 
BTS
(OTHER CATEGORIES) 
FAVORITE FEMALE SOCIAL STAR 
Charli D'Amelio
FAVORITE MALE SOCIAL STAR 
James Charles
FAVORITE FEMALE SPORTS STAR 
Simone Biles
FAVORITE MALE SPORTS STAR 
LeBron James
FAVORITE VIDEO GAME 
Among Us
FAVORITE BABY 
Baby Shark
I hope you had a nice time going through the above article, subscribe to townflex.com by clicking on the bell icon displaying in the bottom corner to receive our daily post updates first.