Amerado and Lyrical Joe Beef – The musical beef between two of Ghana's young rappers Amerado and his mate Lyrical Joe is getting heated.
We just hope all of these songs yield good results, we will be happy the beef between the two champs ends up being a healthy one instead. Both artistes are currently making the trends on social media as well as getting increasing numbers from their streams as well.
The two rappers were some months back then featured on the promising Ghanaian rapper, Cedi Rap's inspirational "This Life" song, and truly, Lyrical Joe and Amerado added up making the song a complete one.
Download all songs here, make sure you do not miss out on new updates by scrolling down as this post brings to you all songs from their beef.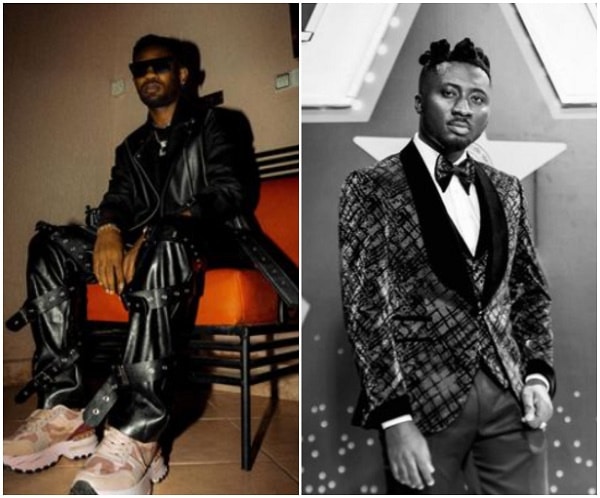 Amerado and Lyrical Joe Beef: It all began after Lyrical Joe threw punches that have been described as a direct d!ss to Amerado earlier this year.
Download Amerado Kyibom Song
Amerado who wasn't pleased with the choice of words from his colleague rapper decided to respond so he dropped a song titled "Kyibom" the song got a lot of attention from many music lovers as the rapper who is also known by his Nickname Younger KA (YKA) dropped hot rap punchlines.
The song saw Amerado throw lines at Lyrical Joe, Kofi Mole and subtly Sarkodie, and also claiming to be one of the best rappers in Ghana. [Download] Amerado Kyibom Here.
Download Lyrical Joe Baboon
On Tuesday, August 9, 2022, Lyrical Joe also gave a response to Amerado in his diss song titled "Baboon" which targeted Younger KA but many have described the song as not that matured. [Download] Lyrical Joe Baboon here.
Download Amerado Ponky Joe
Amerado who just couldn't allow Lyrical Joe (LJ) diss him in a low lyrically budgeted diss song gave him a reply in his song-themed "Ponky Joe".
Well Amerado's Ponky Joe di$s song to LJ has a critical line well optimized but got many disagreeing with him as he decided to involve Lyrical Joe's late-mother in the song. [Download] Amerado Ponky Joe song here.
Download Lyrical Joe Mute
LJ on the same day of Tuesday, August 9, again followed his previously released Baboon song after Amerado dropped 'Ponky Joe' with the new one he calls 'MUTE'.
In the mute diss song to Amerado, LJ restructured his flow as this new one has gotten some hotlines in it, he also targeted YKA's dressing sense. [DOWNLOAD] Lyrical Joe Mute song Here.
Download Amerado Sin No More
Younger KA, rapper Amerado hits back again in his latest updates as ge drops another diss song in the early hours of Wednesday titled "Sin No More" with a shot fired at LJ. [Download] Amerado Sin No More mp3 here.
Download Lyrical Joe Kwabena Numbers
Hmm!!  LJ is back again. Serving another respond to Amerado's Sin No More song, Lyrical Joe unleashes another beast, coming hard with the energy as hi lits our ears up in 'Kwabena Numbers'.
The lyrical war isn't stopping any moment soon, i think it just started lol. [Download] Lyrical Joe Kwabena Numbers Amerado Diss.
Download Amerado Lyrical Josephine
Rapper Amerado comes through again as he pulls a Kwabena Obour on hus fellow rapper, Amerado releases another diss song titled Lyrical Josephine targetting Lyrical Joe.
Lyrical Josephine is a follow-up to his previously released Sin No More song. Production credit for this new one goes to Godfred Two Bars.  [Downlod] Amerado Lyrical Josephine Mp3
Download Lyrical Joe Abaduaba Ameliar
Well, Lyrical Joe has also responded to Amerado once again in the new one called 'Abaduaba Ameliar'. [DOWNLOAD] Lyrical Joe Abaduaba Ameliar Amerado Diss Here
Download Lyrical Joe Obey
Ghanaian rapper, Lyrical Joe steps-ups again with the release of a new diss song titled 'Obey' hitting hard at fellow rapper, Amerado, this song happens to be a follow-up to his previously released 'Abaduaba Ameliar', [Download] Lyrical Joe Obey Here.
Also Listen: Foto Copy Drops New Song 'Tomorrow' with Uhuru [Video]
Download All Amerado and Lyrical Joe Beef Songs Free mp3