Roberto De Zerbi's team delivered a stunning surprise victory, asserting their dominance over Arsenal on their own turf and cementing Manchester City's position as the imminent champions.
Arsenal's aspirations for the title have practically evaporated after suffering a 3-0 defeat at home against a highly deserving Brighton side.
Fully aware of Manchester City's significant strides towards their fifth Premier League title in six seasons with a resounding 3-0 triumph over Everton, the Gunners kicked off the match.
Despite the outcome of the City game, Mikel Arteta emphasized that his team's approach remains unchanged.
The second half of the match witnessed an upturn in events, marked by Julio Enciso's header that put Brighton ahead.
Enciso was left unchallenged inside the six-yard box, as Arsenal defender Jakub Kiwior fell to the ground clutching his ankle, providing the Brighton player with ample space to score.
Despite having over 40 minutes and stoppage time left to respond, Arsenal failed to make a comeback.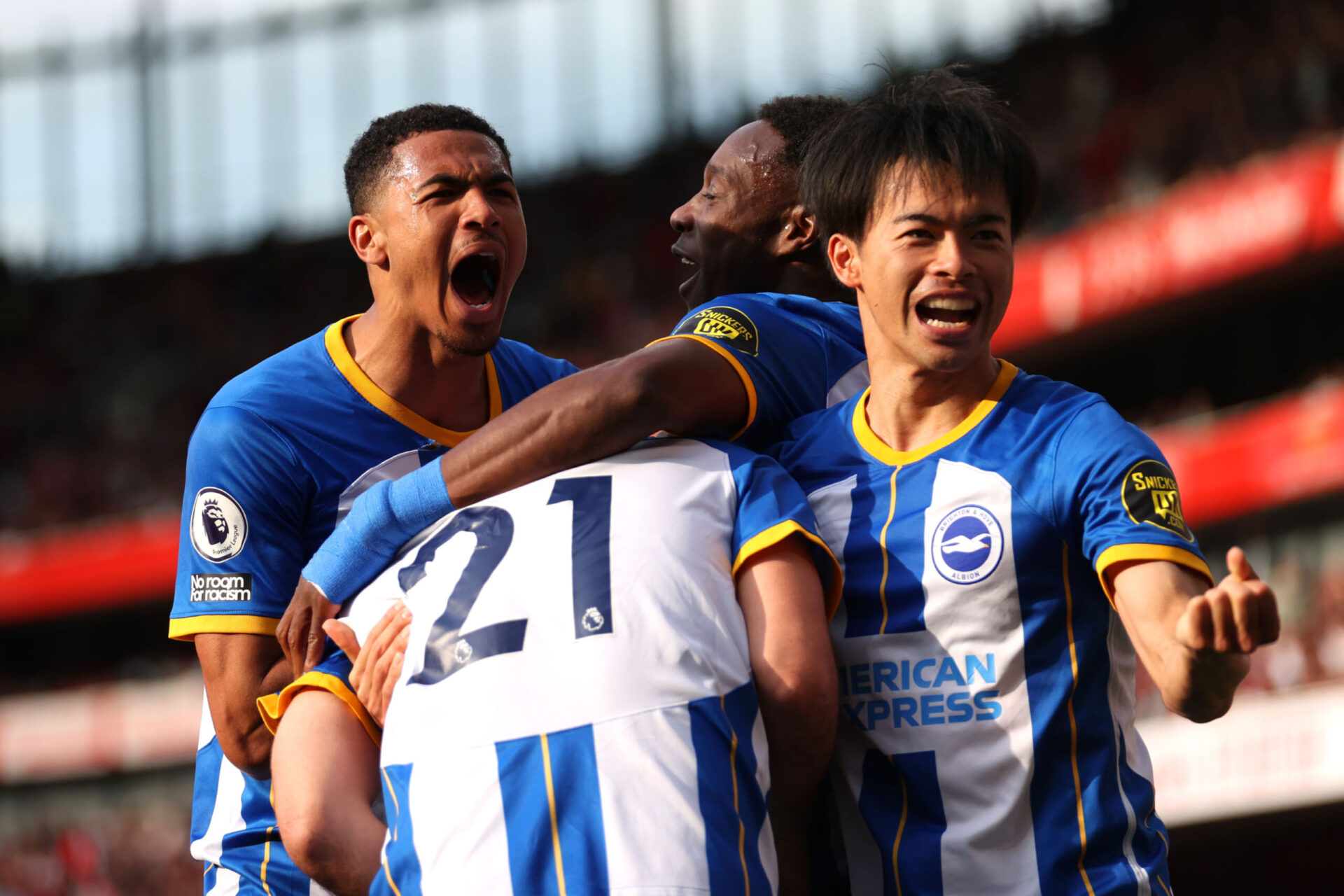 The final nail in the coffin for the Gunners was Deniz Undav's chipped goal, causing their defeat and undoubtedly prompting celebrations in Manchester City's camp.
In the dying moments of second-half stoppage time, Pervis Estupinan concluded a remarkable afternoon for Brighton by scoring their third goal.
Despite their efforts, Arsenal's chances of winning the Premier League this season have dwindled, leaving them in desperate need of a miraculous turn of events in their remaining two matches.
With a four-point gap behind Manchester City, who have played one game less, Arsenal's hopes of lifting the title have diminished significantly.
If the Gunners experience a similar outcome against Nottingham Forest as they did against Brighton, Pep Guardiola's team will be crowned as champions.
Arteta found it difficult to conceal his frustration as he witnessed Arsenal squander any genuine chance of catching up to the league leaders, Manchester City, who now hold a four-point advantage with two matches remaining.
Expressing his discontent, the Spaniard strongly criticized his players for their lackluster performance in the second half.
He offered a heartfelt apology to the fans, acknowledging that the superior team had emerged victorious on the day.
Speaking to Sky Sports after the match, Arteta stated, "A week ago, I stood here feeling proud, but today we have to apologize for the second-half display. It was unacceptable."
"Mathematically, it's still possible, but today it's impossible to think about it," he added.
"We need to digest the result and the performance in the second half, understand why and have a different reaction.
"Brighton were really good when we became really poor. Before that it was the game we expected."
"The first half we knew that, the way they play, they make the game compeitive."
"It was difficult to get a long sequence of play. We conceded when they were direct in behind and the second one we gave away was a silly one. Then the team had no answers."
"We had to be more aggressive and take chances They used the space well and we got punished."
"I will always defend my players, so the person responsible is me. After a defeat like this at home you have to make analysis of yourself first before looking at anybody else."