Bill Gates, who happens to be the founder of Microsoft and his wife and fellow philanthropist, Melinda Gates have announced that they are divorcing after a successful 27-years of marriage.
Bill and Melinda Gates made this known to the public in a joint statement shared on their Twitter pages yesterday, Monday, May 3, 2021.
The two during their 27 years of marraige have three children; Jennifer, 25, Rory, 21, and Phoebe, 18.
In the statement released on their divorce, they said that they will still continue with their missing to work together at Bill and Melinda Gates which means the foundation will still be up and runing as it used to be before but they do not have the believe of growing together as couple in the next phase of life.
Read the statement below.
"After a great deal of thought and a lot of work on our relationship, we have made the decision to end our marriage,".
"Over the last 27 years, we have raised three incredible children and built a foundation that works all over the world to enable all people to lead healthy, productive lives,"
"We continue to share a belief in that mission and will continue our work together at the foundation, but we no longer believe we can grow together as a couple in this next phase of our lives."
"We ask for space and privacy for our family as we begin to navigate this new life."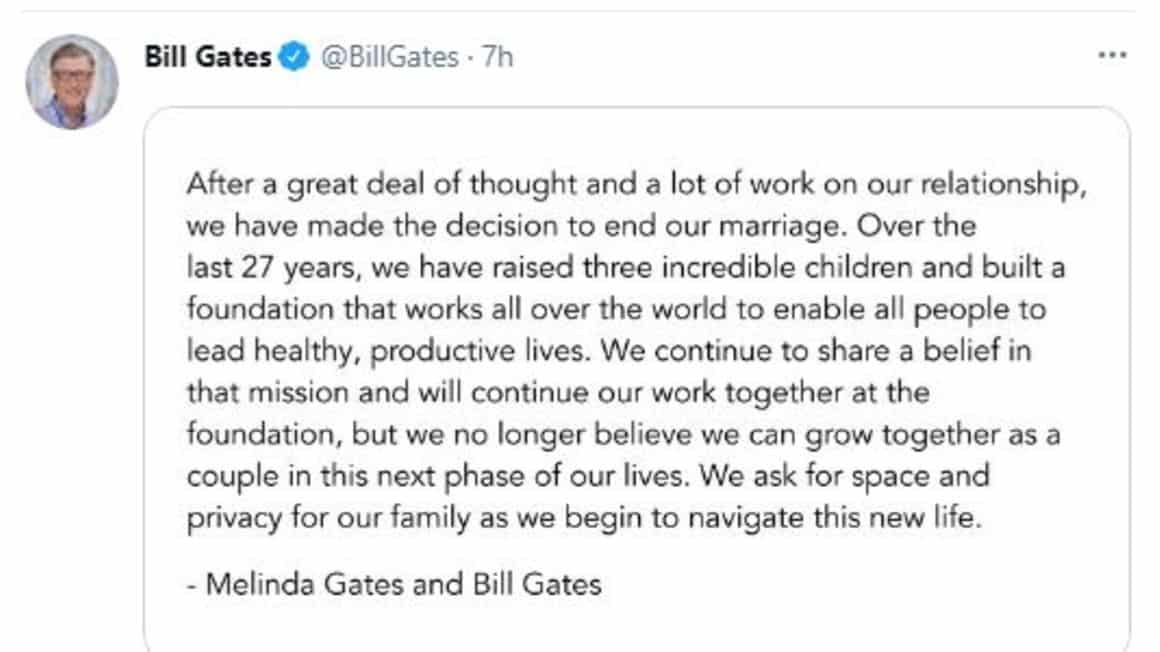 The announcement comes two years after the divorce of Amazon founder Jeff Bezos, another of the world's wealthiest people, and his wife MacKenzie.
Bill Gates, 65, was a geeky teenager when he started what would become the world's most valuable company, and was for a time the world's richest man and most prominent philanthropist.
He stepped down as Microsoft chief executive in 2008 to devote more time to philanthropy and later left the board, keeping only the title of "founder and technology advisor."
Melinda Gates, 56, married her husband in 1994 when she was working at the tech firm. They have three children together.
I hope you had a nice time going through the above article, subscribe to townflex.com by clicking on the bell icon displaying in the bottom corner to receive our daily post updates first.