Popular and Grammy awards-winning Nigerian serial hitmaker, Burna Boy has set a new record as he becomes the first-ever African artiste to hit a total of 200 million streams on Boom Play.
The multiple award-winning singer keeps breaking more historical records, and it will be recalled that some time ago, he was celebrated as the first African act to hit 100 million Streams on the same platform, now hitting 200 million as the first again just confirmed how hard he as an entertainer is working.
Boomplay (formally known as Boom Player) is a music and video streaming & download service developed and owned by Transsnet Music Limited. The service was first launched in Nigeria in 2015 by TECNO Mobile, Transsion Holdings.
Boomplay has a freemium and subscription-based service; basic features are free with advertisements or limitations, while additional features, such as download for offline play and ad-free listening are offered via paid subscriptions.
Boomplay's vision is to build the largest and most reliable digital music ecosystem for artistes and content creators in Africa.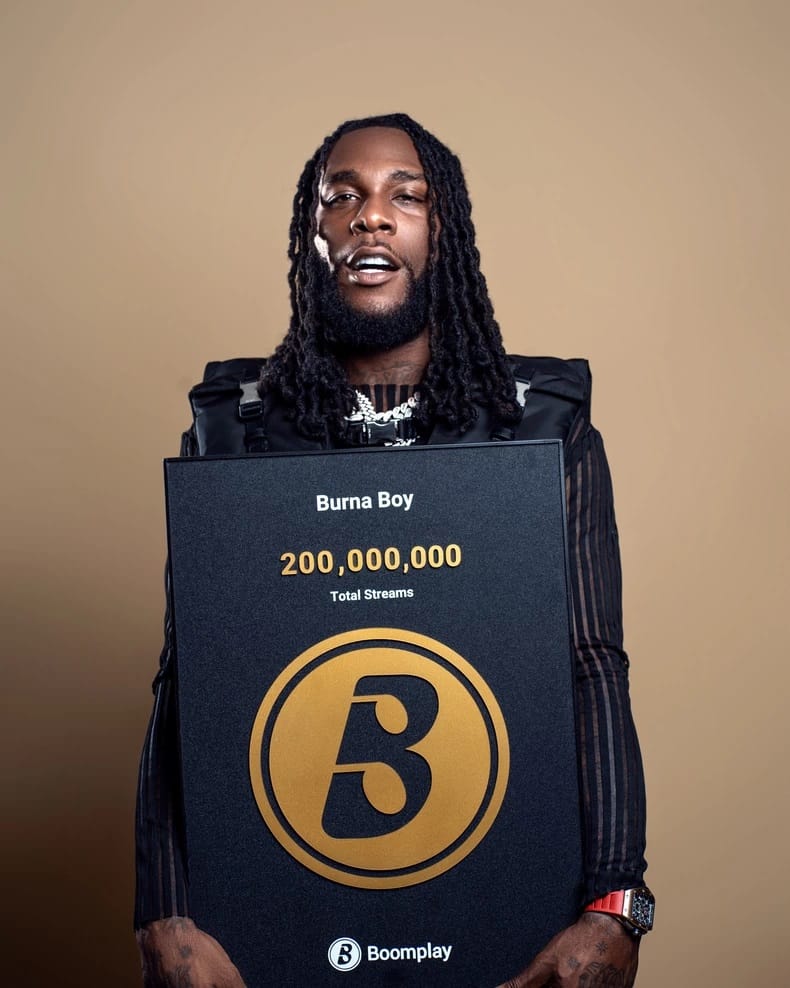 Burna Boy 200 million streams on Boomplay
Nigerian singer and rapper, Burna Boy, who is born with his legal name as Damini Ebunoluwa Ogulu has received a plaque from the platform to celebrate him and acknowledge his hard work.
Burna Boy's Outside album, now stands at a total of 10 million streams, followed by his Grammy-nominated African Gaint album which also has 43 million streams compared to his Outside album by surpassing it over four times.
He also released 'Twice As Tall' album back in 2020, and it also did the miracle, as it also doubled up from his previously released African Gaint Album as it stands currently around 80 million streams, looking at this really confirms the growth of the gifted creative singer is exponentially upturned.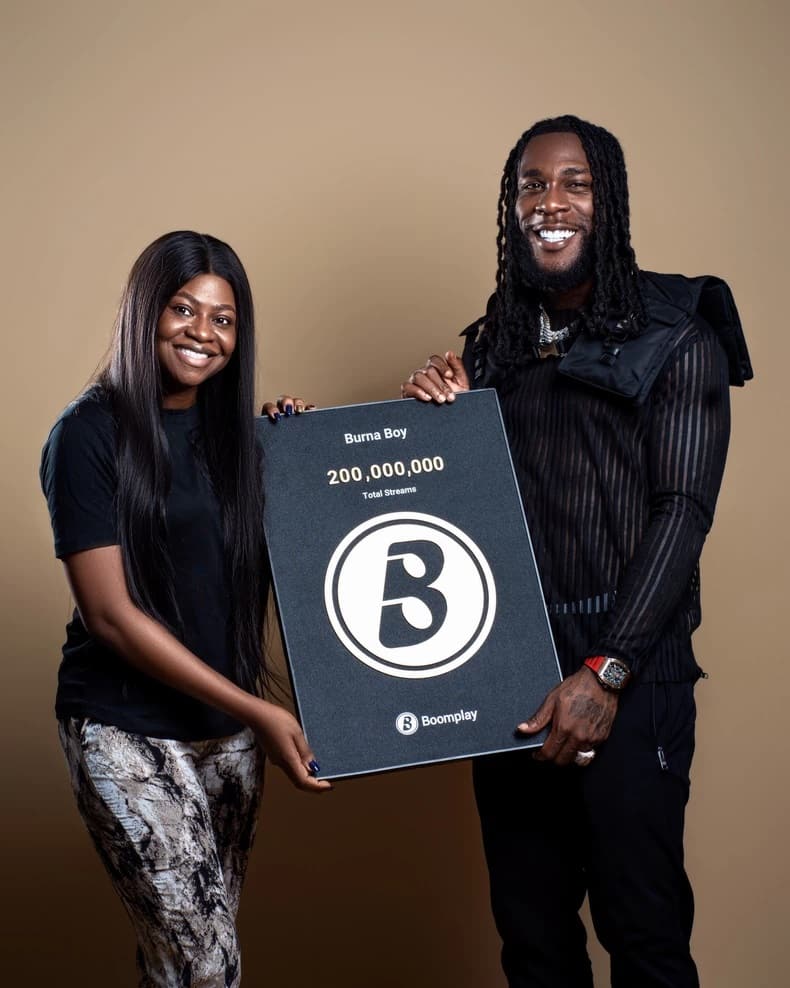 Director of Artist and Media Relations of the music platform presented the plaque to him in recognition of this feat to the Afrofusion musician in Lagos, Nigeria, and he shared a few words to about Burna read what he said below
"This is another iconic feat for Burna Boy, Boomplay, and the entire African music industry.
"This achievement shows that fans in Africa are fast catching up to the digitization of music and streaming, which Boomplay is championing.
"With this development, artistes can earn even more on our platform. Burna Boy is a massively talented singer whose works will continue to affect people positively across Africa and the rest of the world.
"We are proud of what he is doing and his milestone achievements on Boomplay; to this effect, we, at Boomplay, present this plaque to him in special recognition of his contributions so far in the industry and are looking forward to more extraordinary achievements.'
I hope you had a nice time going through the above article, if you did then subscribe to Townflex.com by clicking on the bell icon displayed in the bottom corner to receive our daily post updates first, and also click to subscribe to our YouTube channel for more updates.