Chelsea took control of their destiny by embracing the chaos. Roared on by the 8,000 fans allowed into Stamford Bridge, Thomas Tuchel's side had no option but to put on a show. The noise was deafening from start to finish and Chelsea made sure that the drama on the pitch matched the atmosphere, making up for their defeat to Leicester in the FA Cup final by battling to a win that leaves them on the verge of qualifying for the Champions League.
Chelsea won the battle with Leicester for control over their top-four destiny and avenged the FA Cup final with a huge 2-1 victory on Tuesday. This was the opposite of pandemic football. It was utterly breathless, wildly unpredictable, and wonderfully intense from the first whistle to last.
In front of 8,000 returning fans at Stamford Bridge, the Blues leapfrogged the Foxes into third thanks to goals from Antonio Rudiger and Jorginho as Timo Werner and VAR took center-stage.
Kelechi Iheanacho pulled one back to ensure a tense finish, but it will be Chelsea who heads into the final day in control of Champions League qualification.
Leicester, meanwhile, is just three points ahead of fifth-place Liverpool, who have a superior goal difference and a game in hand, making the Reds favorites to finish fourth.
The defeat sends Leicester crashing back down to earth after their FA Cup final triumph over Chelsea on Saturday – and there was plenty of VAR drama in this one, too.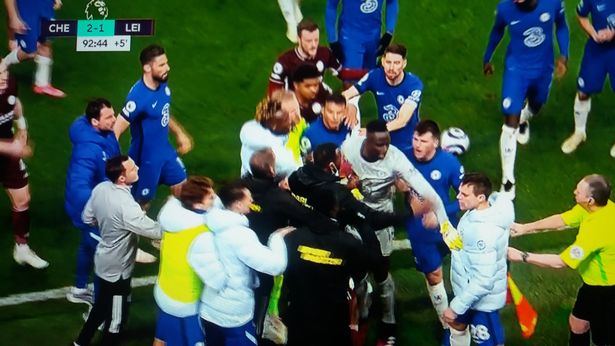 Things got heated towards the end of the game when Ricardo Pereira caught his former Leicester team-mate Ben Chilwell with a late tackle, resulting in a mass touchline brawl. Antonio Rudiger reacted by squaring up to Pereira before the clash evolved into a bigger altercation between the other players, coaches, and substitutes.
Things turned ugly at the end of the game
There is certainly no love lost between the two sides and tensions boiled over towards the end of the match.
A hard challenge from Leicester's Ricardo Pereira on former teammate Ben Chilwell provoked a reaction from both sets of players and the two benches, led first by Chelsea's Antonio Rudiger. It was very much a case of fisticuffs and everything started to cool down, until Blues defender Silva spotted Foxes substitute Amartey.
Silva not usually one to lose his cool, was visibly furious when he saw Amartey, screaming at him and pointing angrily in the Ghanaian's face. Daniel Armartey, who was an unused sub for the Foxes, was booked for his involvement in the scrap while Pereira was shown a yellow card for the foul on Chilwell.
Leicester was forced to apologize after Amartey was filmed throwing a Chelsea pennant to the floor during post-match celebrations in the Wembley dressing room on Saturday.
Speaking about whether the Amartey incident affected the Chelsea players' attitude, Blues boss Thomas Tuchel said: "I did not talk about it.
"I know there was an incident but I didn't talk about it before the match or in any meetings.
"I don't do this but I think the players were well aware."
Also Read: Disappointing United fans continued their protests against the Glazers after their return to Old Trafford as relegated Fulham come back cancelled Cavani's lead
Watch This Video Below.
I hope you had a nice time going through the above article, subscribe to townflex.com by clicking on the bell icon displaying in the bottom corner to receive our daily post updates first.