AtRodrygo and Fede Valverde scored both goals in the first half as Real Madrid defeated Atletico Madrid 2-1 at the Civitas Metropolitano to win the first Madrid Derby of the 2022–23 season.
Atlético's Mario Hermoso pulled a goal back off the bench, but he then received two absurd yellow cards leaving his team down to 10 men as they battled for an equalizer that never materialized.
Real Madrid Felipe, broke the deadlock against the odds after Yannick Carrasco, and Geoffrey Kondogbia all had early chances for Atletico.
Rodrygo completed a stunning one-two with Aurelien Tchouameni after Fede Valverde raced forward, shocking Jan Oblak with his finish in the 18th minute.
Vinicius, who was the object of racist chants prior to the game, was unable to register a goal, but he was an integral part of his team's second goal, hitting the post to allow Fede Valverde '36' to convert a rebound.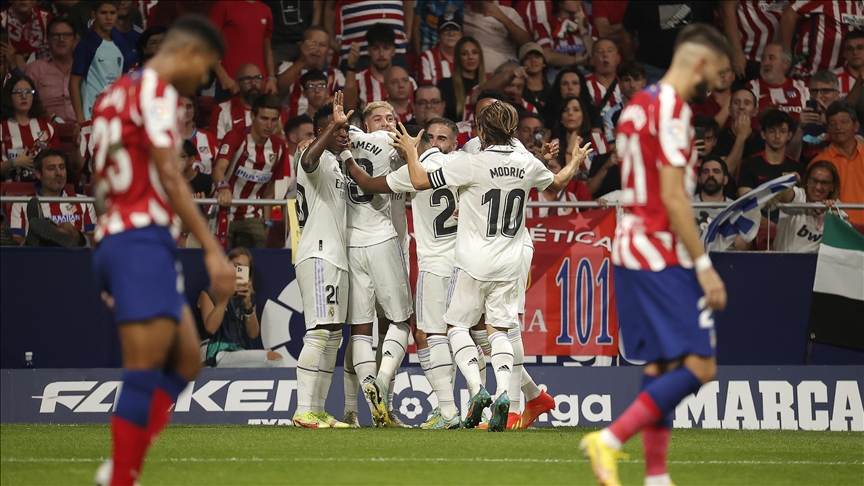 At the conclusion of the first and the beginning of the second, Atletico really fought to get back into the game.
They didn't start to produce much until Angel Correa was introduced, but Thibaut Courtois still had a confident air about him.
However, Hermoso was able to shoulder the ball in after the Belgian swung and failed at an Atletico corner.
The Spanish defender, though, received two yellow cards in rapid succession—one for pushing Dani Ceballos while Atleti had a corner—and another for getting in the face of Dani Carvajal.
The Atletico team that won the 2013–14 LaLiga championship was compared by Simeone to Ancelotti's squad, who later battled to conceal his adoration for them.
"Madrid defends very well, runs little, closes spaces for you, attacks on the counter-attack, they have a terrific forcefulness," Simone told Movistar.
"The forcefulness is wonderful and seeing a team that attacks from deep and counter-attacks reminds me of our team with [Diego] Costa, and they [critics] told us that we played defensively. But when there is force, football is wonderful.
"[Atletico] made a great effort, we were close to drawing, but it's true that a team that defends organised like them and counter-attacks like that, I like it because you can play deep and play well. I congratulate them, it is a great job by the Madrid coach.
"But I am happy with the work of my team because they stuck it out until the end, the players made a great effort. Mario's expulsion was a pity because there were a few minutes left."
The outcome of the game saw Real Madrid lead the table 18 points with six victories in a row to begin the 2022–23 season whiles Atletico to seventh place in the standings going into the international break.
Click On the Red-Bell icon displayed at the right bottom corner of your reading screen to be the first person to get the latest news updates sent directly to your smartphone's notification.