The Electricity Company Of Ghana (ECG) hasfinally announced that the eight-day unstable power suply (dumsor) to some part of Accra has come to an end.
Some weeks ago the Electricity Company Of Ghana in Collaboration with the Ghana Grid Company (GRIDCo) announced that there was going to be an interuption in power suply to some parts of the country for eight days which started on Monday, 10th to 17th May 2021,.
According to them it is part of the plan which they see to be right in solving the electrical problem the country is currently facing and also to finish the installation process of the newly constructed  Pokuasi Bulk Suply Point (BSP) to GRIDCo's 30kv transmission line.
In a new statement releasd by ECG early this morning, Tuesday, May 18th 2021, they announced that the 8-days iteruptiuons in power suply which is termed by Ghanaians as 'Dumsor' for system improvement works at Pokuase BSP has finally come to an end at 6:00 am today.
"ECG wishes to thank all stakeholders for their cooperation during the exercise. Other needed interruptions in power supply to enable contractors to complete the next project, the Kasoa Bulk Supply Point (BSP), will be communicated in due course," – according to the statement.
Read full statement below.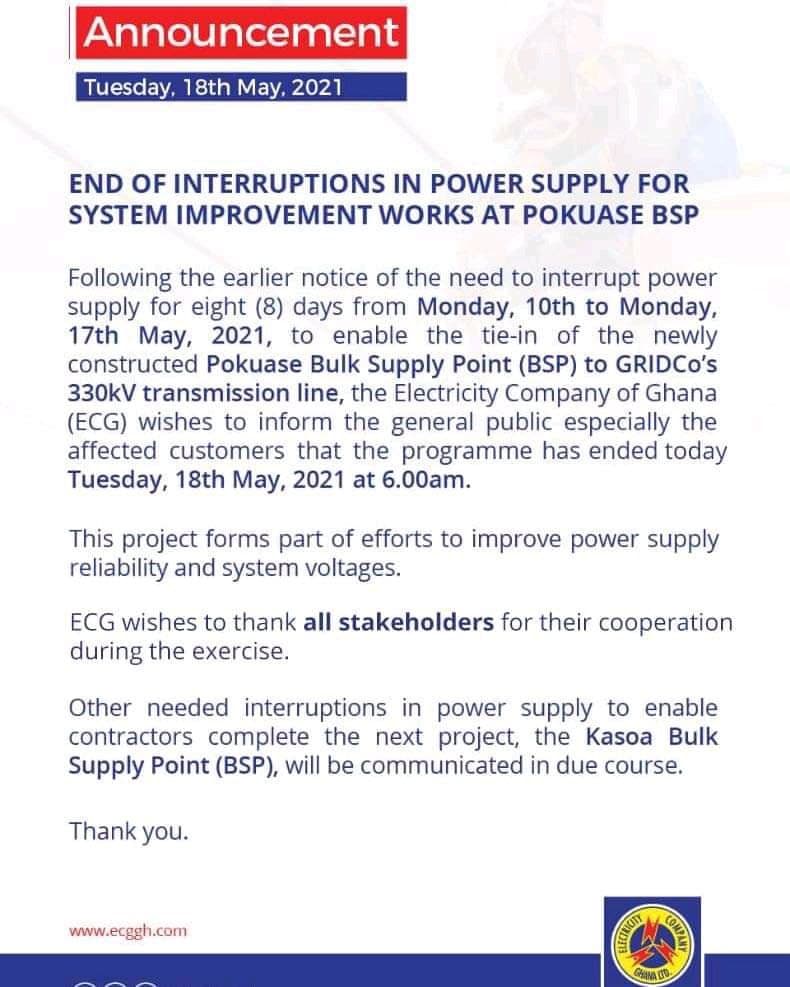 Also Read: 'If You Don't Like My Songs Then You Don't Like Good Music' – King Promise
I hope you had a nice time going through the above article, subscribe to townflex.com by clicking on the bell icon displaying in the bottom corner to receive our daily post updates first.