Talented Ghanaian singer and rapper, Fameye breaks silence on the trending Ejura shootings, which has lighted up many youths to rise and speak about the current happenings in the country.
There is a big tension at mounting Ejura, a town in Kumasi (Ashanti Region) following the death of the 40-year-old Ibrahim Mohammed aka Kaaka, one of the #FixTheCountry activists who got stabbed to death at his residence.
His death really angered the youths of Ejura that they are more willing to sacrifice their lives until justice is served for Kaaka.
On Tuesday morning, June 29, 2021, the youth had a clash with both the Police and Military forces combined as the march on a protest demanding for just served for Ibrahim Mohammed.
The protest they embarked on later turned out to be a fearful one as the encounter with the above-mentioned forces led to two of the protesters losing their lives while others got injured after shots were fired by the Polic and military forces.
These happenings have caused a lot of traffic on social media with Ghanaian youths condemning the act as well as bashing the government for its poor ways of handling issues. So many celebrities have also aired in their feelings.
Fameye Speaks On Ejura Shootings: Rapper and singer Fameye who is really angered took to his official Facebook page to also air his views on the happenings as demands are high that justice is served by making series of posts.
Ghana as a country has always been known by many all over the world as a peaceful country (the second peaceful country in the world), but the singer has a different take on such a record.
According to one of the posts by him, Ghana's claim of being a peaceful country is only on papers and charts but in reality.
"Ghana is only calm on paper and in chats," he wrote.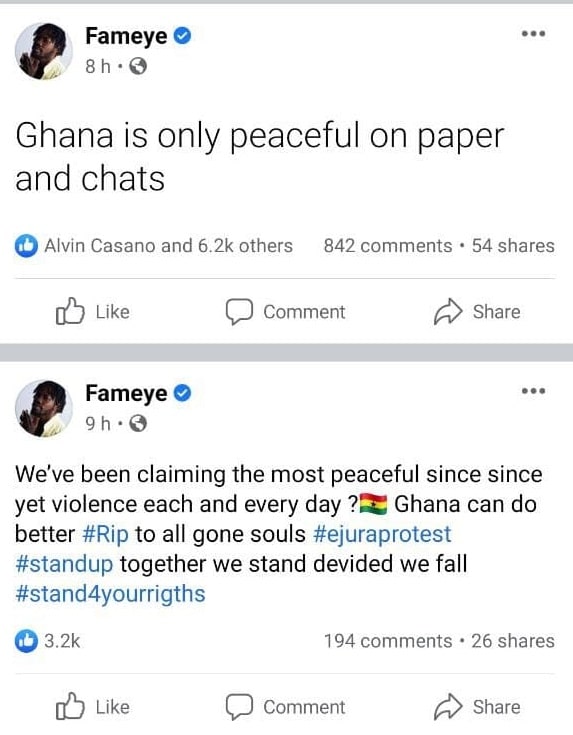 In other news, Ghanaian rapper, Dadie Opanka has also released a new song that has a message going out to the government regarding the current states and happenings in the country.
Opanka's message to Akufo-Addo's office highlighted a lot of important things which need to be looked at, things including the unemployment rate in Ghana by urging the government to create more jobs for the youths of the country amongst other things, Read More on his message to Akufo-Addo Here.
I hope you had a nice time going through the above article, subscribe to townflex.com by clicking on the bell icon displaying in the bottom corner to receive our daily post updates first.