The various political parties contesting in this year's election were all present on Tuesday, October 20th, 2020 at the Electoral Commission (EC) head office in Accra on in selecting their position on the ballot sheet.
The process was successful and it turned out very interestingly that NPP chose the first spot and they got it, NDC also selected the second spot and they also got the spot.
The governing New Patriotic Party (NPP) who came on the first spot on the ballot sheet was followed by Democratic Congress (NDC) on the second spot, with GUM following the two big parties in Ghana by finding themselves on the number 3 spot, the full listis as follows.
Below are the parties and their positions on the ballot paper.
NPP
NDC
GUM
CPP
GFP
GCPP
APC
LPG
PNC
PPP
NDP
Independent candidate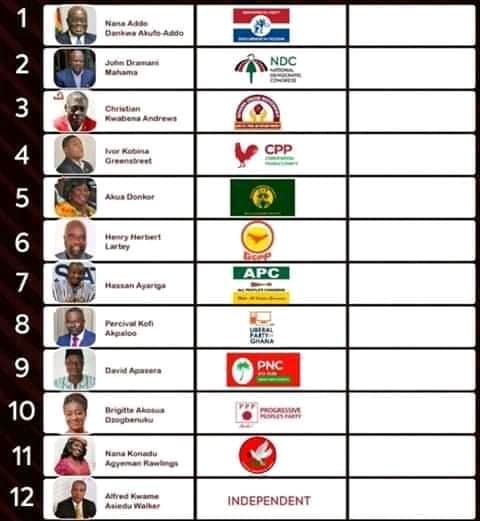 The ruling NPP is very confident that with them coming number one on the ballot sheet is a full assurance that Nana Addo Dankua Akufo-Addo and the New Patriotic Party (NPP) will still be winning power back to the office for the second time in a role.
Meanwhile, Peter Otokunor, who is the Deputy General Secretary of the National Democratic Congress (NDC) has in an interview after the balloting process told JoyNews that, NDC on the second spot on the ballot paper shows clearly that John Dramani Mahama will be making his second return to the office.
"We are very happy about the number that we have picked. In actual fact, that was what we were expecting. We came in for 2 and we got 2. It's the second coming of JM and you know what it means," he said.