Elon Musk, the global billionaire who intends to purchase Snapchat, has revealed information that will likely make a lot of women unhappy.
Well, Snapchat is a multi-media instant messaging service and software created in the United States by Snap Inc., formerly known as Snapchat Inc.
One of the main characteristics of Snapchat is that images and messages are frequently only accessible for a brief period of time before they are no longer viewable by their recipients.
Snapchat is primarily used by women for its camera filters rather than its messaging capabilities. Hence, on this note, Elon Musk seems eager to snuff out most women's happiness.
In a now-deleted post, Elon Musk revealed his intention to purchase Snapchat.
In addition, he admitted that after purchasing the app, the first thing he will do is remove all of the filters, which are typically used by women to make themselves appear more attractive.
"Next I'm buying Snapchat and deleting all the filters. Welcome back to reality, ladies," he stated.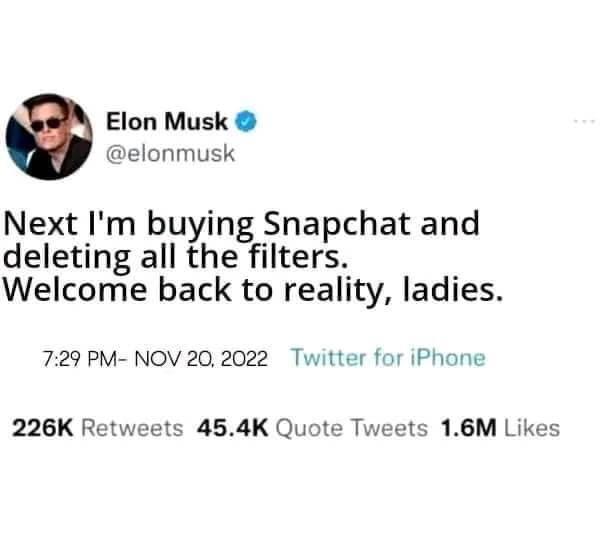 Meanwhile, in other news, Adiepena Mirekua-Akwaa, a social media user, has fired controversial comedian Afia Schwarzenegger because of a recent remark she made regarding the Agric minister, Dr. Owusu Afriyie Akoto.
Afia Schwarzenegger recently attacked Dr. Owusu Afriyie Akoto, the minister of agriculture, calling him a failure and attributing he