#EndSars: Burna Boy finally Joins Protest, Creates a fund to rescue wrongfully arrested protesters
Multiple award-winning Nigerian singer, Burna Boy, born 'Damini Ogulu', has finally joined the ongoing #EndSARS protest.
Following a lot of pressure from Nigerians, expressing how disappointed they were on the path of the singer for being mute since the protest for police brutality came to light some days back, He has finally responded and is in full support.
The singer took to his Instagram page on Saturday afternoon, October 10th, 2020, where he made shared with the public, a press release from him and explaining why he was silent back then.
 "I have ALWAYS been here Fighting for my people anyway and anywhere that can possibly bring genuine progress and not for any Political gain, accolades or public validation. I have tweeted, spoken , sang for years, I'm Glad everybody now sees the need to do more. So let's do that, each of us, in his or her own way" – he captioned his statemnet.
In his statement which reads below, the African Giant stated that, he has created a Sub-fund under his charity "The Reach called (@ProjectProtectng)" to help protesters that are wrongfully harmed/arrested by SARS during and after these protests. read statement below..
" "I have taken the past week to gather my thoughts. I usually respond to these matters with my emotions and frustrations. This time I have chosen to ignore the attempts; well-meaning or derogatory to draw me out. This is not and should not be about me. It is about a fundamental problem that affects us all Nigerians, as Africans, and as human beings.
"The state of our country, Nigeria, is tricky; it has been from before I was born. My greatest concern in all of this is that SARS will end now as it allegedly has several times in the past (I recall giving calls to end SARS during my USA tour in April 2019 and morph into a different entity down the line with a different form or a different name. In my opinion, abolishing the unit is a definite first step but we cannot afford to stop there."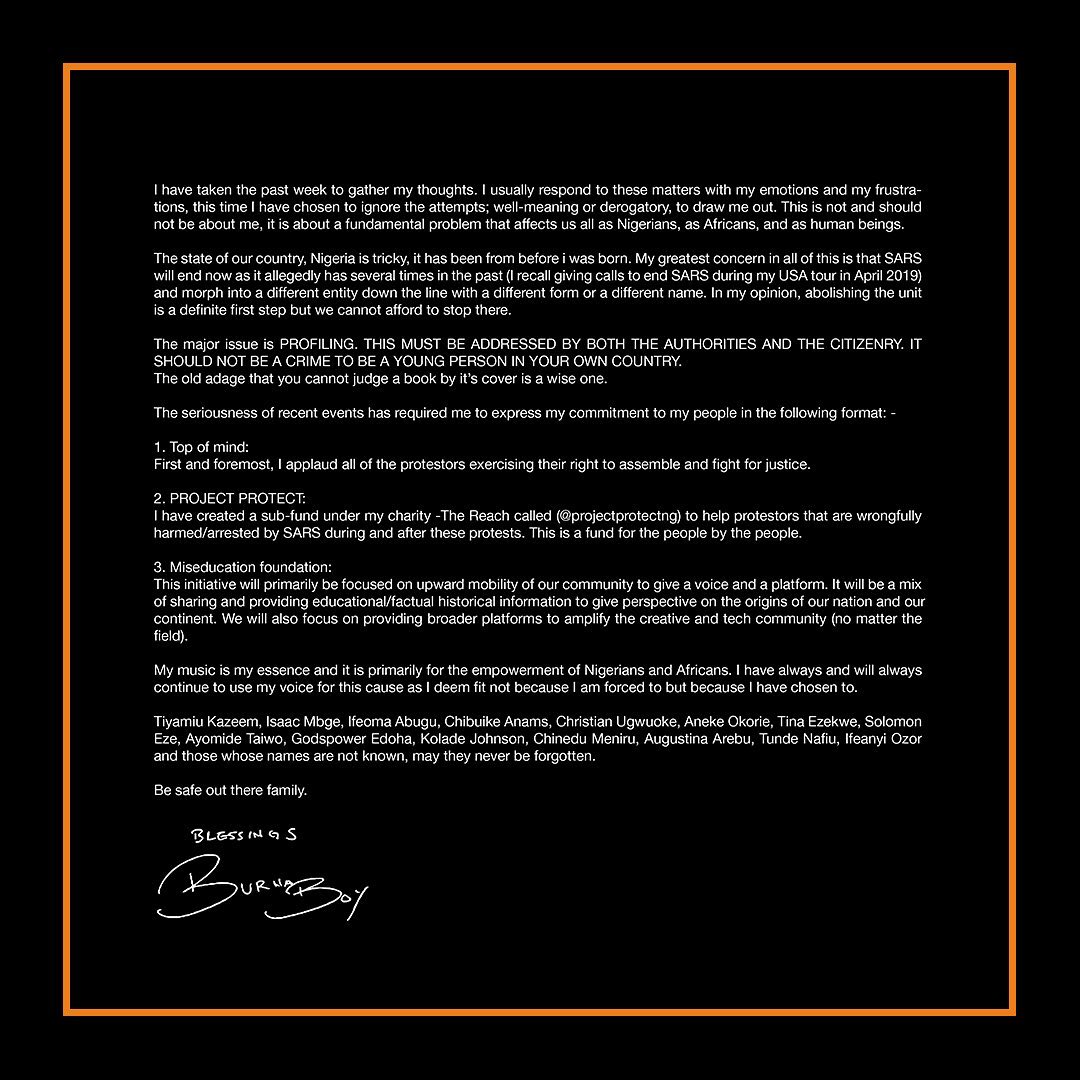 I hope you had a nice time going through the above article, subscribe to townflex.com by clicking on the bell icon? displaying in the bottom corner to receive our daily post updates first.