Former 2020 BBNaija Lockdown housemates, Vee and Erica finally become friends once again after settling their beef.
The two ladies, Laycon's bestie, Vee, and Laycon's ex-crush, Erica, during their stay in the 2020 BBNaija Lockdown edition have not been the best of friends as hatred separated them.
Recall that sometimes passed Erica, speaking on her friendship with her ex-disqualified housemate, Vee revealed that they have no relationships, according to her she has always been too busy focusing on her career to entertain negative vibes from her fellow housemate.
She added when she was out of the house, she sighted videos of Vee saying ill things about her and saw no reason to be friends with her after such an act from her.
Speaking on her part, Vee owned up to all the things she said about Erica. However, she stated that it was because she was been protective and defensive of Laycon whom she regards as her friend. Vee went on to state that Erica seemed to enjoy the whole drama with Tolani Baj going for her man, Neo, according to Legit.
Vee and Erica's fight settled
The beef/fight between the two former housemates has finally been resolved and now reconciled as new friends once again.
Vee and Erica settled their differences following the successful conclusion of the Reunion which started a few days ago come to an end.
Erica took to her verified Twitter account to thank the organizers of the show, her housemates that include all those with who she never got along well with which includes Vee, wishing them well.
"Thank you BBN for the platform, thank you my fellow housemates, I thank God for everyone of you, even the few I didn't get along with, I love you and I only wish you all that is good! Tomorrow isn't promised, we don't have to be the closest but no hate from my side, good luck!" Erica wrote.
Vee in reacting to Erica's post also wishing her success in return, saying the house was a game which simply means whatever happened there shouldn't be taken serious in real life.
"No matter what, the house was a game. Proud of all you're achieving. Here's to more success Erica!" Vee also wrote.
See their reaction below;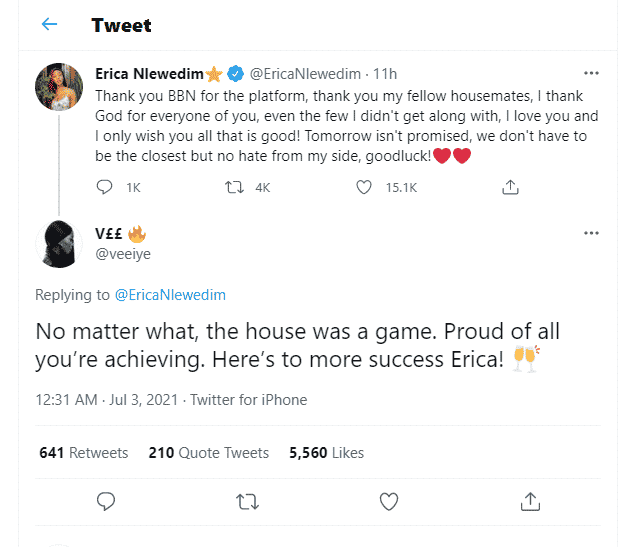 No matter what, the house was a game. Proud of all you're achieving. Here's to more success Erica! 🥂

— V££ 🔥 (@veeiye) July 3, 2021
I hope you had a nice time going through the above article, if you did then subscribe to Townflex.com by clicking on the bell icon displaying in the bottom corner to receive our daily post updates first, and also click to subscribe to our YouTube channel for more updates. Vee and Erica fight settled