Following Manchester United's 2-1 defeat to Manchester City at Wembley, manager Erik ten Hag took a unique approach to motivate his players.
He made them watch as Ilkay Gundogan and the rest of the victorious Manchester City team lifted the FA Cup, aiming to instill a sense of determination within his squad.
Ten Hag revealed that he wanted his players to experience the bitter disappointment of losing the match, believing that it would fuel their determination to emerge triumphant in their next encounter against City.
The decision to have the players witness City's celebrations served as a powerful reminder of the heights they aspire to reach.
It emphasized the importance of learning from defeat and channeling that disappointment into motivation for future success.

The manager's unique approach aims to harness the pain of defeat and transform it into a driving force that propels his players towards victory in their future clashes against their city rivals.
"Show respect, always but of course it's a motivation, you have to feel it in your stomach, it hurts," Ten Hag told a press conference.
"It has to be fuel, our team, my players, [City] deserved it but you have to grab it and that is the next step we have to make."
Erik ten Hag, commended Manchester City for their hard-fought victory in a closely contested final.
He praised his team for their resilience throughout the match but expressed strong criticism regarding their vulnerability in conceding goals from set plays.
"We win together, we lose together," emphasized Ten Hag.
Acknowledging the difficulty of accepting the loss, Ten Hag stressed the importance of recognizing the small details that can make a difference in high-stakes matches.
He called on his team to learn from the experience and emphasized the need for better defensive performance in crucial moments.
Ten Hag's remarks serve as a reminder of the team's collective responsibility to address defensive shortcomings and strive for improvement.
The focus on attention to detail and defensive organization will undoubtedly fuel Manchester United's determination to rectify their mistakes and achieve success in future encounters.
"We have seen. We win together, we lose together, there were two moments, there were dead balls – one at kick-off and one from a wide free kick – they can't be a goal, we have to be better organised there," Ten Hag added.
"As a team, we didn't do the jobs we had to do and if you want to win trophies, details in big games make the difference and it's hard to accept but we have to."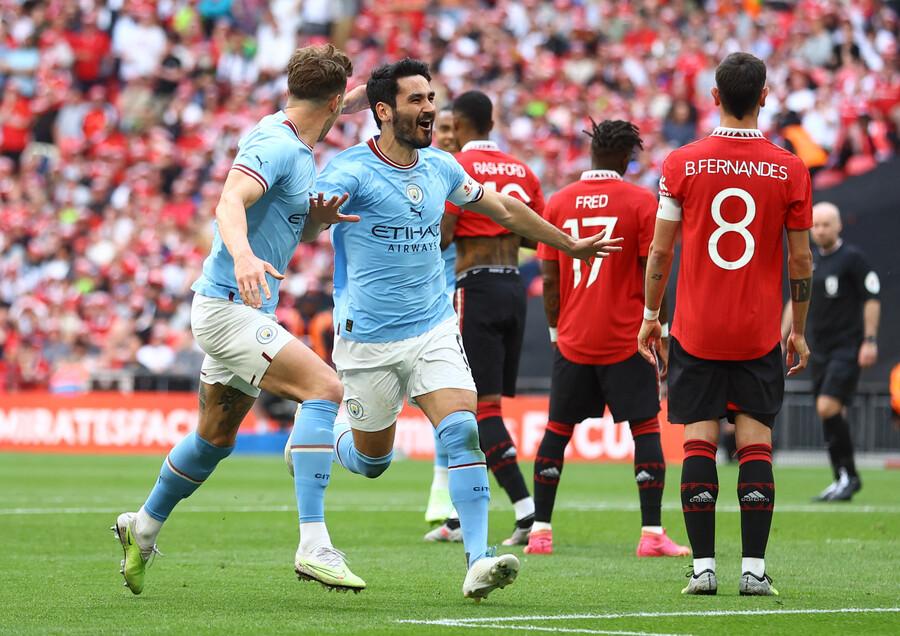 Ten Hag Acknowledges Room for Improvement and Commends Team's Performance
Erik ten Hag, admitted that there were areas for improvement following the team's loss in the final.
While he refrained from criticizing David de Gea, he acknowledged that the goalkeeper could have done better in preventing the goals from Ilkay Gundogan.
Speaking about the team's performance, Ten Hag highlighted the progress they have made, stating, "We are in the right direction."
However, he emphasized the need to address certain issues and make improvements in order to take the next step and win trophies.
Despite the defeat, Ten Hag refrained from singling out individuals for criticism.
He commended the team as a whole, including David de Gea, for their performances throughout the season.
The manager expressed his satisfaction with the team's achievements, citing their third-place finish in the league, qualification for the Champions League, a trophy win, and reaching another final.
Ten Hag's comments reflect a balanced perspective, acknowledging both areas for improvement and the team's overall success.
By focusing on the positive aspects of the season, he aims to maintain team morale and foster a sense of pride in their accomplishments.
The manager's approach demonstrates his belief in the team's potential and his commitment to continuous growth and development.
For more stories like this, click link to visit our Latest Sports News Page.
Do you enjoy reading from Townflex? Do You Want Notifications From Us On Our Latest Post? If so, click on the Red bell icon below to subscribe to our feed, which will appear in your smartphone's notification after we publish a new article. You may also follow us on Twitter at @Townflexgh, Facebook at Townflex, Telegram at @Townflex, Townflex on Pinterest, Townflex on TikTok, Townflex on YouTube, and Townflex on Google News.