The annual Falling Walls Lab Ghana is a gathering that unites young scientists, innovators, and entrepreneurs across various disciplines to share their research and ideas. This year's edition took place on May 26th at the West African Centre for Cell Biology of Infectious Pathogens, University of Ghana. The event was jointly organized by the DAAD Information Centre Accra and StartUp Lounge Africa, with support from the Federal Foreign Office of Germany.
A total of 29 applications were received for this year's event, encompassing diverse fields such as agricultural science and farming, health, plastic recycling, information technology, and the fight against deforestation, among others.
Following a thorough review of the applications, 12 projects were shortlisted to present their ideas at the Falling Walls Lab Ghana 2023. During the lab, each presenter was given 3 minutes to pitch their idea to a jury, and they were allowed to utilize prototypes or videos to enhance their explanations. The Lab welcomed ideas from scientific innovations to business solutions and social interventions.
The prestigious title of the Falling Walls Lab Ghana 2023 winner was awarded to Maltiti Mohammed, a Ghanaian student from the University for Development Studies in Tamale. Maltiti's concept involved establishing a clothing and accessories company that exclusively relied on recycled plastics. He demonstrated a prototype in which plastic waste was melted and extruded into filaments, then twisted into yarn. This yarn could be used to create exquisite fabrics for clothing, like T-shirts.
The guest of honor at the event was His Excellency Daniel Krull, the German Ambassador to Ghana. The 7-member jury for the competition was led by Mr. Tsonam Cleanse Akpeloo, CEO of Suku Technologies and Chairman of the Association of Ghana Industries, Greater Accra.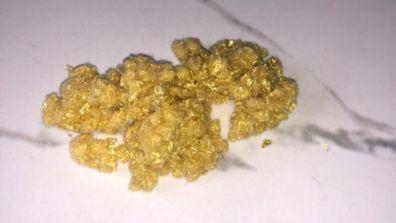 The Falling Walls Lab Ghana offers an exceptional opportunity for young scientists and entrepreneurs to showcase their research and ideas. It serves as a platform for these talented individuals to connect with potential investors and partners, as well as gain exposure to a wider audience.
As the winner, Maltiti will receive an all-expenses-paid trip to Berlin in November to compete in the Falling Walls Lab finale, a world-class event organized by the Falling Walls Foundation in Berlin, Germany, and generously funded by Berlin's Natural History Museum.
Thumbnail: From left to right: His Excellency, Daniel Krull (German Ambassador to Ghana), Maltiti Mohammed (Falling Walls Lab Ghana 2023 Winner), Tsonam Cleanse Akpeloo (Jury Chair, Falling Walls Lab Ghana 2023) © DAAD / Joshua Cleopas