Frenkie de Jong's contract renewal negotiations are currently on hold, potentially paving the way for his departure from FC Barcelona as a free agent in 2026.
Recently, Barcelona successfully renewed the contract of Marc-Andre ter Stegen, who willingly accepted a salary reduction to extend his stay at the club until at least June 2028, even though he will be 36 years old by then.
Ter Stegen, who arrived at Barcelona from Borussia Monchengladbach in 2014, has effectively committed to spending the remainder of his career with the Catalan giants.
In light of securing the future of one of the world's top goalkeepers, President Joan Laporta aims to achieve a similar feat with Frenkie de Jong.
The Dutch midfielder, acquired from Ajax in 2019 for a transfer fee of €75 million ($80 million), is currently set to earn more than €27 million ($28.8 million) for the current season. This places him significantly ahead of all other members of Xavi Hernandez's first-team squad in terms of earnings, including striker Robert Lewandowski.
Read Also: Erik ten Hag Defends Maguire, Urges Focus Ahead of Brighton Clash
Barcelona is facing an untenable situation as they grapple with financial constraints, especially considering La Liga has imposed a team salary cap of €270 million ($288 million).
According to reports from EFE, the Spanish champions find themselves significantly over this budgetary limit, with current expenditures totaling €404 million ($431 million).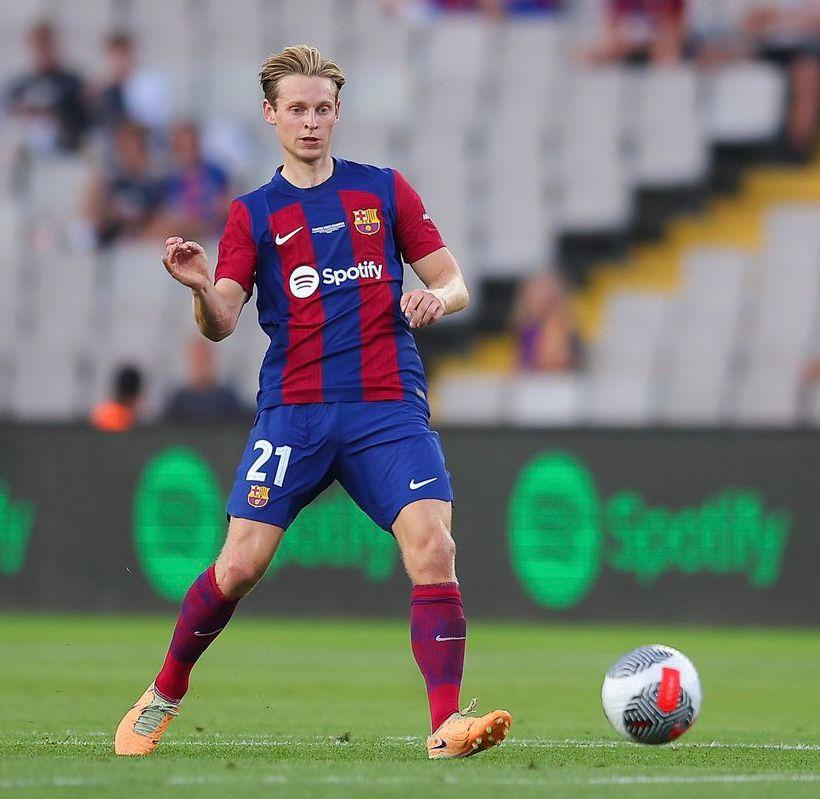 This financial dilemma is reportedly casting doubt on the January arrival of Vitor Roque, as reported by SPORT and Mundo Deportivo.
However, Xavi, in his prematch press conference before the Real Betis match, mentioned that sporting director Deco has assured him that they can stick to the original schedule.
Irrespective of the outcome of these developments, it appears that Frenkie de Jong is not in a hurry to reconfigure his existing contract by extending it and redistributing his earnings beyond 2026 for the benefit of his current club.
Furthermore, Barcelona has yet to make an official offer to De Jong.
MARCA has elaborated on how De Jong is cognizant that any prospective new club could likely match or even surpass his current earnings in Catalonia, possibly including an enticing signing bonus if he joins them as a free agent in the mentioned year.
With Sergio Busquets now plying his trade in the MLS, Frenkie de Jong has firmly established himself as an irreplaceable figure in Xavi's starting lineup, solidifying his status as one of the world's premier midfielders.
By the middle of 2026, De Jong will have just celebrated his 29th birthday, positioning himself squarely within the prime years of his career.
Moreover, interest from prominent clubs like the Manchester duo and Paris Saint-Germain has been a constant presence since he burst onto the scene with Ajax at the beginning of the decade. This interest is likely to persist if he maintains his current exceptional form.
However, it's worth noting that De Jong has developed a profound comfort with life in Barcelona, where he fulfills his dream of representing the club.
If Barcelona can successfully navigate their financial challenges and offer him a contract that aligns with his contributions and stature, he is more inclined to commit the rest of his peak years to Barcelona rather than seeking greater financial rewards elsewhere.