Frenkie de Jong has said that his relationship with Barcelona is still far from ideal, but he is convinced that he never intended to quit the team amid a turbulent summer that saw him linked with both Manchester United and Chelsea.
The Catalan giants effectively gave De Jong an ultimatum to leave or accept a significant wage cut in an effort to recuperate some of the money they spent on an aggressive recruitment drive.
Erik ten Hag who was De Jong's coach at Ajax put in a £72 million deal for the 25-year-old, but the Dutch midfielder rejected a move to Old Trafford because they weren't in the Champions League.
Barcelona effectively ran a smear campaign against De Jong at the height of the rumors about his future after he refused to accept a pay cut, which resulted in his own supporters jeering him.
When asked whether his relationship with Barcelona's hierarchy had resolved, De Jong replied sharply: 'Between me and my teammates nothing has changed.'
He added when asked whether he ever considered moving to the Premier League: 'I already decided in May that I wanted to stay at Barcelona and I never changed this decision."
Chelsea saw an opening when he turned down United's offer but they were unable to persuade the Dutch international to support Todd Boehly's reconstruction of Stamford Bridge.
De Jong ultimately decided to remain at Barcelona, and even though He has played eight times so far this season and has scored one league goal, he is not a guaranteed starter in Xavi's team.
He also acknowledged that he is not content to play a supporting role.
Prior to tonight's Nations League match versus Poland, he said: 'I played 8 games this season from which I started four games.
'In the biggest game, against Bayern Munich, I came on as a sub but I want to play from the beginning. I just have to make sure that I recover my starting spot.'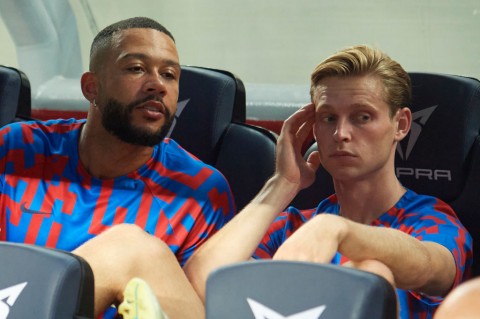 'There are so many programs and papers who make things up. Look, a lot has happened and yes things were a little troubled, but my own decision was clear from the start.'
'When I play less, I do notice it,' he admitted. 'Not really in terms of the technical aspect because you still know how to play football, but more so in the physical aspect.'
'I can't give too much details away. But look.. the club has it's own idea's and I have my own idea's too and sometimes this clashes with each other.'
'But at the end of the day things went okay.'
The manager of Barcelona, Xavi, still has big plans for De Jong.
Barca spent a lot of money over the summer recruiting top players like Franck Kessie, Jules Kounde, Raphinha, and Robert Lewandowski.
Xavi aims to catch up to Real Madrid, who currently at the of the standings with Barcelona on second with two points behind defending Champions.
Click On the Red-Bell icon displayed at the right bottom corner of your reading screen to be the first person to get the latest news updates sent directly to your smartphone's notification.