Veteran Nigerian actress, Patience Ozokwo takes us back in time as she shares a throwback photo and some fun fact about how her acting career started.
The 63 year-old actress who has also joined the #BeLikeNgoziChallenge (Be Like Ngozi Challenge) on Thursday, February 18, 2021, took to her instagram page to share a throwback (Old) photo of herslef dressed like Ngozi, the new director of WTO.
The actress in her post talked about how she got into the acting scene and thanked those who pushed and introduced her into Nollywood due to her funny-like nature in class.
She also added that more of the story on how the real journey started will soon be revealed another day. See her post below.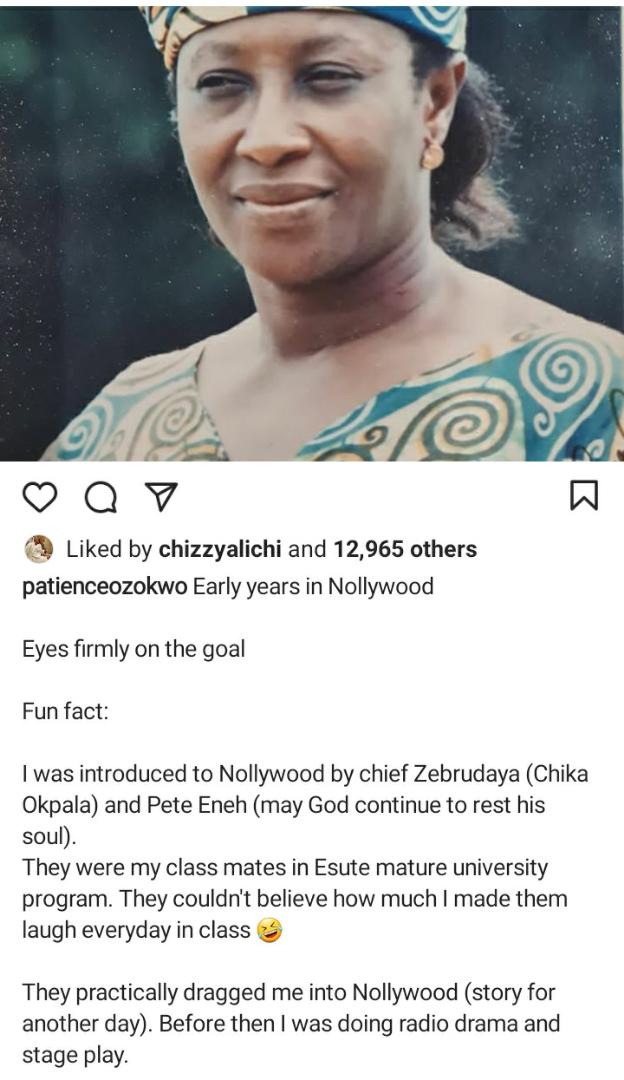 Who Is Ngozi, Why #BeLikeNgoziChallenge?
Ngozi Okonjo-Iweala is a Nigerian-American economist and international development expert. She sits on the boards of Standard Chartered Bank, Twitter, Global Alliance for Vaccines and Immunization, and the African Risk Capacity, who have now been appointed as the Director-General of the World Trade Organization (WTO).
Following the appointment of Ngozi Okonjo-Iweala as the Director-General of the World Trade Organization, Nigerians have taken to their social media pages to celebrate the big win. She has proven yet again that every girl child, from any part of the world, can be a world leader.
On Monday, Ngozi Okonjo-Iweala was officially appointed as WTO's Director-General, making her the first woman and the first African to lead the WTO with her term set to begin on the 1st of March 2021.
All that has to be done to join in on the #BelikeNgoziChallenge is to dress like Ngozi, with her signature head tie, Ankara, and glasses. The results so far are so inspiring and beautiful to see.
I hope you had a nice time going through the above article, subscribe to townflex.com by clicking on the bell icon 🔔 displaying in the bottom corner to receive our daily post updates first.