António Guterres, the secretary-general of the United Nations, issued a dire warning on Monday, expressing his deep concern about the escalating violence in Gaza, which he described as "fast becoming a graveyard for children."
He made these remarks during a press conference, highlighting the devastating impact of the ongoing conflict in the region.
Guterres emphasized that the situation in Gaza is not just a humanitarian crisis but a crisis of humanity itself. He cited alarming statistics, revealing that hundreds of girls and boys are reportedly killed or injured daily as a result of the conflict.
These children are enduring immense suffering in what has become a protracted and devastating crisis.
The secretary-general's call for an immediate ceasefire has been a consistent message from the United Nations throughout this conflict, but the violence shows no sign of abating.
The situation has reached a grim milestone, marking the first full month since Hamas initiated its attack on Israel, which prompted the Israeli military to respond with retaliatory strikes.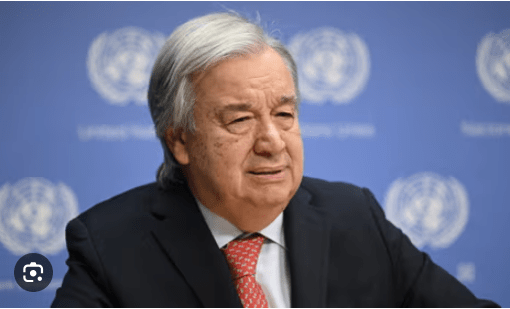 READ ALSO: UK will never let world forget about support for Ukraine – Shapps
Guterres' plea for peace was met with criticism from Israeli Foreign Minister Eli Cohen. In a tweet directed at the UN chief, Cohen wrote, "shame on you," asserting that Hamas is the root cause of the issues in Gaza, not Israel's actions aimed at countering this terrorist organization.
The current conflict, which has now entered its fifth week, has taken an enormous toll on the civilian population in Gaza.
Data from Gaza's Hamas-run health ministry reports a staggering death toll of 10,022 people in the enclave, including 4,104 children, since the commencement of Israel's campaign.
This campaign was initiated in response to Hamas's actions, which included the killing of more than 1,400 people in Israel and the kidnapping of over 200 individuals.
As the world watches the tragic events unfold in Gaza, the international community is faced with the urgent task of finding a path toward peace and stability in a region plagued by long-standing tensions and suffering.