The Ghana Education Service has postponed the reopening of first-year Senior High School students (SHS 1) to Thursday, March 18 through to Sunday, March 21.
This was made known to the public by a press statement released signed by Anthony Boateng, the Deputy Director-General (MS) for Director-General.
According to GES, SHS1 reopening rescheduled from Wednesday, March 10, to Thursday 18th March 2021, while Academic work will commence fully on Monday 22nd March 2021.
In the statement, it was disclosed that this new decision was taken following the fact that some students are still struggling with their self-placement process.
They added that this action is to give students who have had the above-mentioned issues the time to complete the process.
Also, others who have not completed their school's admission process have been encouraged to use the extension to complete the process.
The Service added that the rescheduling will also help parents have adequate time to prepare their kids for school as well as give schools additional time needed to prepare to welcome them.
"Management had decided that the reopening of schools for first-year students should be rescheduled for Thursday, March 18 through to Sunday, March 21, 2021."
"The spread-out period is to enable the schools to structure the admission process in such a way that not too many students get crowded at the school at one particular point in time."
GES went on and asked parents/guardians to also ensure that before their wards leave home for the school they carry alone some nose masks to complement what they will be provided in the schools.
Read the full statement below.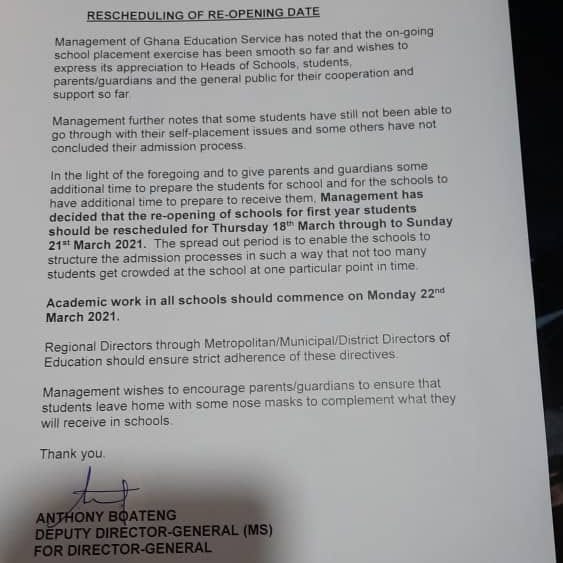 I hope you had a nice time going through the above article, subscribe to townflex.com by clicking on the bell icon 🔔 displaying in the bottom corner to receive our daily post updates first.