On March 7, 2023, the Ghanaian Military Forces released 150 individuals who were apprehended during a raid at Ashaiman.
The news was confirmed by Ernest Nogbey, the representative for Ashaiman, in an interview with Citi News.
According to Nogbey, the military has detained a total of 184 people in connection with the murder of a soldier that occurred over the weekend. The remaining 34 individuals are still in military custody and undergoing investigation.
Nogbey revealed that the military stated that they were only screening the remaining 34 individuals and that they would be released once the screening was completed.
He also stated that he had met with the families of the released individuals and assured them that he would continue to advocate for the release of all detained citizens.
The military raid was conducted in response to the murder of Trooper Sherriff Imoro, a military officer who was allegedly stabbed in the town on Saturday, March 4, 2023.
The military used helicopters and armored vehicles during the raid, which resulted in the brutalization of several citizens.
The Ghana Armed Forces (GAF) released a statement on March 8th, defending the raid and claiming that the goal was to find those responsible for the murder of the soldier, not to exact revenge. The GAF also stated that the raid had been approved by its high leadership.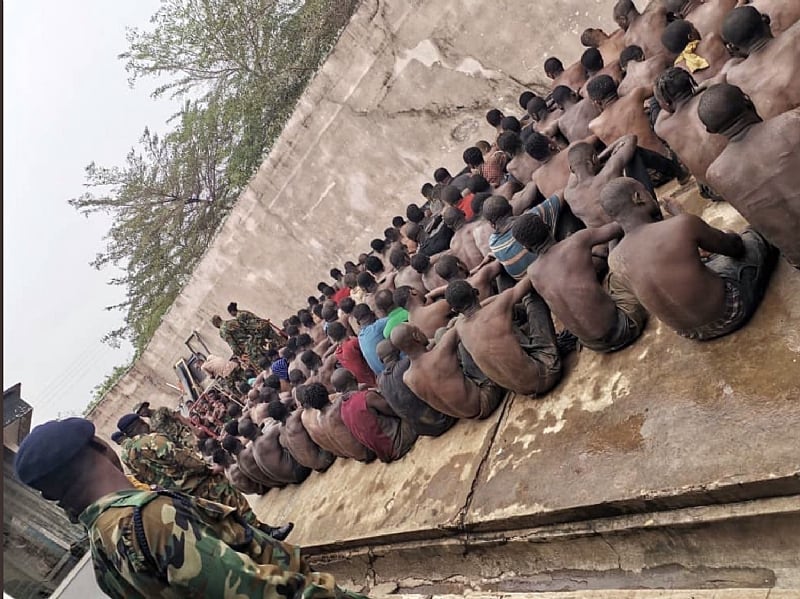 However, the Council for Human Rights and Administrative Justice (CHRAJ) denounced the military drill, and Joseph Whittal, the Commissioner for Human Rights and Administrative Justice, stated that the operation failed the test for an intelligence-led operation and that the military behaved improperly.
The release of 150 individuals is a positive development, but the situation in Ashaiman remains tense. The families of the detained individuals are anxious for their release, and the brutal tactics used by the military have left many citizens traumatized.
The Ghanaian government must take steps to ensure that justice is served for the murder of Trooper Sherriff Imoro, but this must be done in a way that respects the rights of all citizens.
The use of excessive force and arbitrary detentions are not the answer and only serve to create more tension and mistrust between the government and its citizens.
The government must work to rebuild the trust of its citizens and demonstrate that it is committed to upholding the rule of law and protecting the rights of all Ghanaians.