It has been a somber 40 days since the untimely passing of Stephanie Appiah, the 17-year-old daughter of renowned Kumawood actress Nana Yaa Appiah.
The teenager's funeral was solemnly held on July 8, 2023, but the grieving mother's sorrow only seems to deepen with each passing day.
In the wake of Stephanie's tragic demise and her subsequent burial, Nana Yaa Appiah has been consumed by grief, mourning the memory of her daughter with unwavering intensity.
Initially, the actress publicly stated that medical professionals attributed Stephanie's passing to an infection and malaria.
However, her conviction now stands resolute – she believes her daughter's death was not a natural occurrence.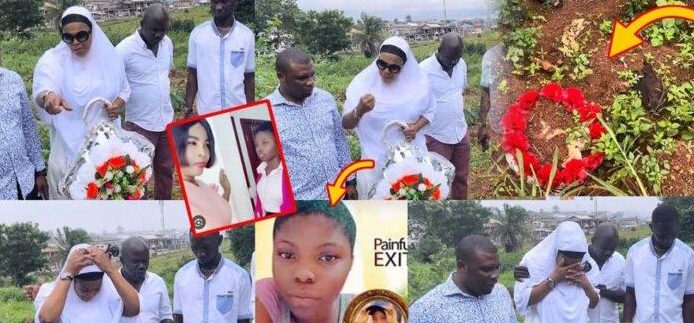 Nana Yaa is steadfast in her belief that mysterious forces played a role in her daughter's passing and is seeking justice for her loss. In a poignant and emotional display, she visited her daughter's grave with a wreath on the day before the 40-day mark since the funeral.
Alongside what appeared to be close family members, the tearful mother could not restrain her emotions. Gripped by grief, she pleaded with her daughter's spirit to reveal the truth.
With a heavy heart, Nana Yaa implored her departed daughter to seek retribution if indeed her life was taken by someone's hand.
The scene was marked by an overwhelming sense of mourning and the anguish of a mother grappling with profound loss and an unquenchable thirst for answers.
As the days continue to pass, Nana Yaa's determination to unearth the truth behind her daughter's death only intensifies.
Her quest for justice and closure serves as a stark reminder of the depths of a mother's love and the unwavering strength in the face of unimaginable tragedy.