Manchester City's manager, Pep Guardiola, has openly expressed his frustration with his player, Rodri, following the midfielder's dismissal in their recent 2-0 victory over Nottingham Forest. Despite playing with ten men in the second half, City maintained their perfect start to the Premier League season.
Rodri was shown a red card for a violent conduct incident involving Morgan Gibbs-White, as he grabbed his opponent around the throat. This red card means he will face a three-match ban, which includes missing City's crucial clash against title rivals Arsenal on October 8.
Guardiola confirmed his displeasure with Rodri's red card and expressed hope that the player would learn from this incident.
He emphasized that Rodri had the opportunity to control his emotions but did not seize it. Guardiola's frustration primarily stemmed from his aversion to playing with a reduced number of players on the field.
Guardiola stated, "Hopefully Rodri will learn. He had to control himself and his emotions. I can get a yellow card but Rodri can't. I don't play — the guys who do have to be careful.
"Kyle has done this in the past — they know they shouldn't do it — but it is emotions. Whatever happens, you have to control yourself. I am angry, because I don't like playing with 10 men."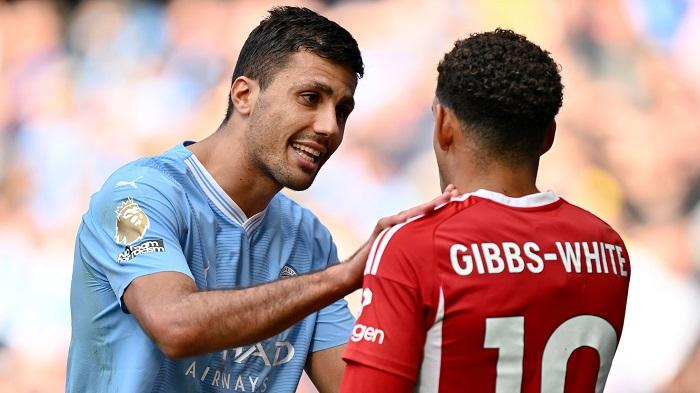 In addition to Rodri's red card, referee Anthony Taylor issued yellow cards to ten other players and even cautioned Guardiola himself.
Guardiola criticized Taylor for not effectively managing the game, asserting that the responsibility for the chaos that ensued after the 35-minute mark should not fall solely on City or Nottingham Forest but also on the referee.
Pep said: "The game was incredibly perfect for 35 minutes for both sides but after that, when it became chaos, it was not our responsibility, that is for sure. With all the yellow cards, the responsibility is not Nottingham Forest or City's that's for sure. The referee has changed the game, absolutely."
Guardiola also disclosed that Rodri had apologized to his teammates for his red card, which will result in his absence from league matches against Wolves and Brighton.