American legendary singer, Harry Belafonte has been confirmed dead.
The singer died at age 96, and the news of his death was confirmed by his spokesman to the New York Times, revealing he died at his home in New York, on Tuesday (April 25th, 2023).
According to reports, his cause of death was confirmed as congestive heart failure.
Fans, Friends, and loved ones took to their various social media handles where they poured in their heartfelt tributes for the legendary singer, actor and activist.
Wife & Children
Harry Belafonte is survived by his wife Pamela, 4 children, 2 stepchildren and several grandchildren.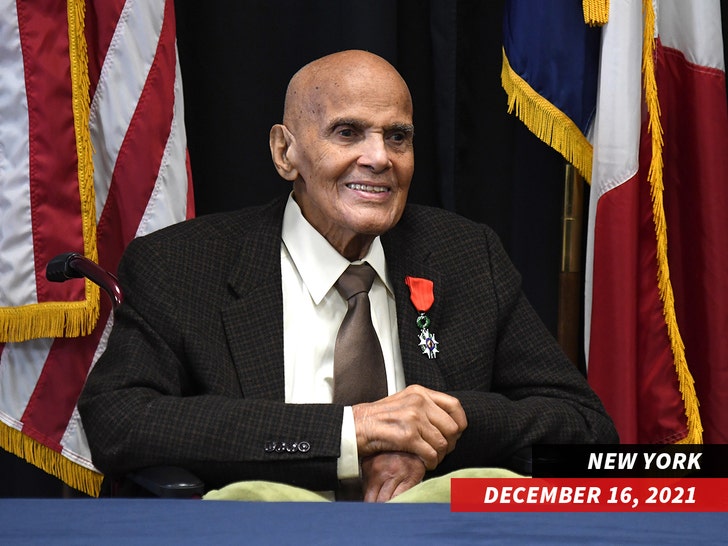 About Harry Belafonte
Harry Belafonte, byname of Harold George Belafonte, Jr., (born March 1, 1927, New York City, New York, U.S.—died April 25, 2023, New York City, New York), American singer, actor, producer, and activist who was a key figure in the folk music scene of the 1950s, especially known for popularizing the Caribbean folk songs known as calypsos. He was also involved in various social causes, notably the civil rights movement.
Belafonte was born in the Harlem district of New York City to emigrants from the Caribbean islands of Martinique and Jamaica. When his mother returned to Jamaica in 1935, he joined her, living there until 1940.
He left high school to serve in the U.S. Navy in the mid-1940s. After returning to New York City, Belafonte studied drama at Erwin Piscator's Dramatic Workshop, where a singing role led to nightclub engagements and a recording contract as a pop singer.
In 1950 Belafonte became a folk singer, learning songs at the Library of Congress's American folk song archives. He sang Caribbean folk songs as well, in nightclubs and theatres; his handsome appearance added to his appeal as a frequent performer on television variety programs.
With hit recordings such as "Day-O (Banana Boat Song)" and "Jamaica Farewell," he initiated a fad for calypso music and became known as the King of Calypso. In the mid-1950s Harry Belafonte and Mark Twain and Other Folk Favorites were the first of his series of hit folk song albums.
During this time he made his Broadway debut, appearing in the musical John Murray Anderson's Almanac (1953–54); for his performance, he won a Tony Award for supporting actor. Later in the decade he starred on the stage in 3 for Tonight and Belafonte at the Palace.
In 1953 Belafonte made his film debut in Bright Road, playing a school principal. The following year he was the male lead (but did not sing) in the musical Carmen Jones; his costar was Dorothy Dandridge. The film was a huge success, and it led to a starring role in the film Island in the Sun (1957), which also featured Dandridge.
He produced the film Odds Against Tomorrow (1959), in which he starred. He also starred in the TV special Tonight with Belafonte (1959), a revue of African American music; Belafonte won an Emmy Award for his work on the show.
Belafonte then took a break from acting to focus on other interests. In the 1960s he became the first African American television producer, and over the course of his career he served in that capacity on several productions.
During this time Belafonte continued to record, and his notable albums include Swing Dat Hammer (1960), for which he received a Grammy Award for best folk performance.
His collaborations with South African singer Miriam Makeba and Greek singer Nana Mouskouri helped introduce them to American audiences, and An Evening with Belafonte/Makeba (1965) garnered a Grammy for best folk recording.
In 1970 he returned to the big screen with the drama The Angel Levine. Later film credits include Buck and the Preacher (1972), Uptown Saturday Night (1974), The Player (1992), Kansas City (1996), Bobby (2006), and BlacKkKlansman (2018).
Throughout his career, Belafonte was involved in various causes. He was a supporter of the civil rights movement and a close friend of Martin Luther King, Jr. Belafonte was active in African humanitarian efforts, notably appearing on the charity song "We Are the World" (1985).
In 1987 he became a UNICEF goodwill ambassador. He received the Jean Hersholt Humanitarian Award from the Academy of Motion Picture Arts and Sciences in 2014.
In 2022 Belafonte was selected for induction into the Rock and Roll Hall of Fame.
Check out the latest Entertainment news from Townflex HERE.