At the stroke of midnight, Hollywood actors embarked on a strike, driven by collapsed talks with studios. This move amplifies the ongoing disruption caused by the picketing writers in the film and television industry since May.
Hollywood goes on strike: Reports reveal that, for the first time since 1960 (which is 63 years), the Screen Actors Guild (SAG) will unite with over 10,000 members of the Writers Guild of America (WGA) on the picket lines.
Since May 2, both unions have taken a stand against major studios and streaming services, effectively bringing numerous productions in the United States and abroad to a standstill.
Related: Kevin Spacey claims he was a 'big flirt' with no "aggressive" behaviour
SAG-AFTRA (The Screen Actors Guild – American Federation of Television and Radio Artists), Hollywood's most prominent union representing 160,000 film and television actors, along with the Writers Guild of America, are collectively demanding amplified base pay and residuals in the age of streaming television.
Additionally, they seek guarantees that their invaluable work will not be replaced by the encroachment of artificial intelligence (AI).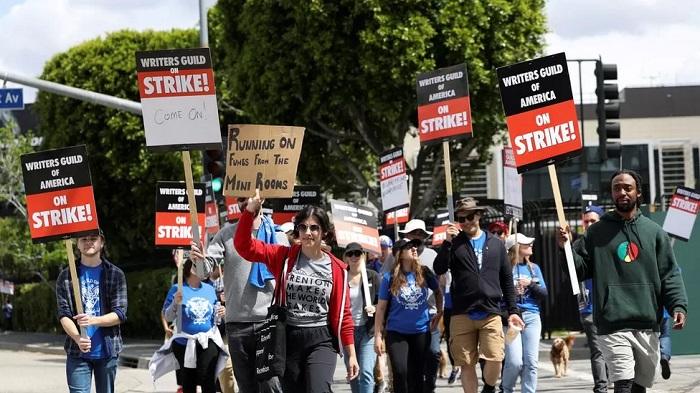 The strike officially commences at the stroke of midnight, following a unanimous vote by SAG-AFTRA's national board to authorize the walkout. This decision was announced on Thursday (July 13) after the deadline to secure a new contract had expired on Wednesday.
Fran Drescher, renowned for her role in The Nanny TV show and currently serving as the president of SAG-AFTRA, expressed deep dismay at the studios' dismissive responses to the actors' legitimate concerns. He called the studios' responses to actors' concerns insulting and disrespectful
Related: Ahsoka Trailer, Release Date, Cast & More
In his words, "I am shocked by the way the people that we have been in business with are treating us. I cannot believe it, quite frankly, how far apart we are on so many things, how they plead poverty that they're losing money left and right when giving hundreds of millions to their CEOs. It is disgusting."
In contrast, The Alliance of Motion Picture and Television Producers (AMPTP), the trade association entrusted with negotiations on behalf of production companies such as Netflix Inc (NFLX.O) and Walt Disney Co (DIS.N), expressed profound disappointment at SAG-AFTRA's decision to withdraw from further talks.
A-list stars including Tom Cruise, Angelina Jolie and Johnny Depp, Meryl Streep, Ben Stiller and Colin Farrell have come out publicly in favor of a strike.
For Latest , showbiz, celebrity gist, and gossip stories like this, feel free to visit our Entertainment Page.
Do you enjoy reading from Townflex? Do You Want Notifications From Us On Our Latest Post? If so, click on the Red bell icon below to subscribe to our feed, which will appear in your smartphone's notification after we publish a new article. You may also follow us on Twitter at @Townflexgh, Facebook at Townflex, Telegram at @Townflex, Townflex on Pinterest, Townflex on TikTok, Townflex on YouTube, and Townflex on Google News.