Earlier this week, a popular video of self-proclaimed Ghanaian millionaire Ibrahim Dauda, also known as Ibrah One, appeared on social media.
The viral video was posted on social media in which the socialite was spotted going barefooted and shirtless on an unnamed street in Niger.
Despite the lack of detailed reports about the purported incident, videos shared on social media have sparked unease, with many believing the controversial social media figure has lost his mind.
To our dismay, Ibrah One has reacted to these rumors pertaining to his insanity.
Ibrah One took to his verified Snapchat account a few moments after the video went viral to poke fun at individuals spreading rumors about his apparent insanity.
The Ghanaian socialite stated in his account that:
"Keep your head up and your middle finger higher," 
What that meant, no one knows.
But the reports townflex.com has gathered, suggests that it was Ibrah One replying to his critics and haters.
Yet, interestingly, his reaction has also caused netizens to doubt whether it is indeed Ibrah One or some family member of his wanting to curb down the situation.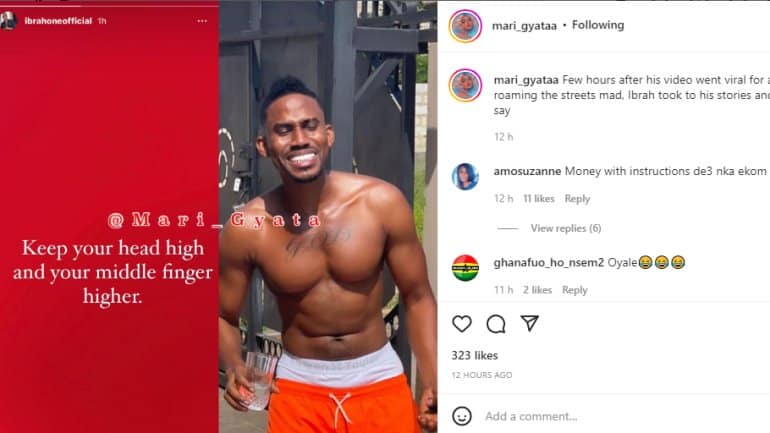 Conclusion
So dear cherished viewers, what are your thoughts on this piece?
Do you think it is really Ibrah One reacting to his critics?
Or a family member of his who just want to prevent the issue from escalating?