The Vice-President of the Republic of Ghana, Alhaji Dr. Mahamudu Bawumia has finally reacted to reports that he has another wife aside Samira Bawumi, asks Ghanaians to ignore such fabricated stories.
Recall that on the 7th, of January this year during the inauguration of President Akufo-Addo and Vice-President Bawumia, the speaker of Parliament, Alban Bagbin while introducing the special guests at the ceremony mistakenly mentioned the name of one madam Ramatu as the wife of the veep instead of 'Samira Bawumia'.
After the mentioning of the name, the speaker after realizing the error he made corrected it and apologized saying that he made a mistake because that was the name giving to him in his speech, and it became a big story from that very moment making rounds in the trends of social media that Bawumia has another wife that he is hiding from the public.
This was again was fuelled by the Minority Members of Parliament last Tuesday after the State of the Nation Address was delivered. When the Second Lady, Samira, was introduced by the speaker of Parliament Alban Bagbin, the Minority MPs shouted 'We want Ramatu'.
In other to put a stop to the other wife saga, the Vice-President on Friday, March 12th, 2021, released a press statement to clear the air on the issue. the statement was signed by the spokesperson to the Vice-President, Gideon Boako, Ph.D.
According to him, he only has one legitimate wife which is Samira Bawumia the young beautiful woman he has been married to for the past 17 years.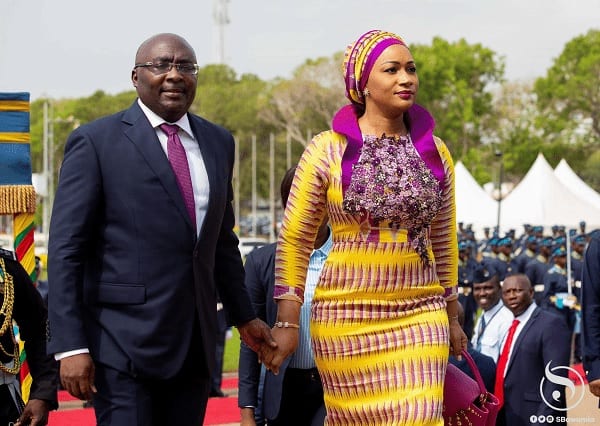 He asked Ghanaians to ignore all the rumors of having another wife, saying that those are all fabricated stories by the minority in Parliament (NDC MP's) just to soil his name with false news.
Read the full statement below;
"The attention of the of the Vice-President has been drawn to stories and pictures circulating of a woman supposedly named "Ramatu" who is being claimed as a wife of the Vice-President.
"The office of the Vice-President wishes to inform the general public that the Vice-President, Alhaji Dr. Mahamudu Bawumia, has never met or seen this purported Ramatu let alone take her as a wife.
"She is a figment of the imagination of people trying hard to tarnish the image of the Vice-President for their own purposes."
"For the avoidance of doubt, the Vice-President has only one wife, his dear Samira Bawumia and they have been married for 17 years even though his religion permits him to marry up to four wives."
"We ask the public to ignore the propaganda and deliberate falsehood," the statement said.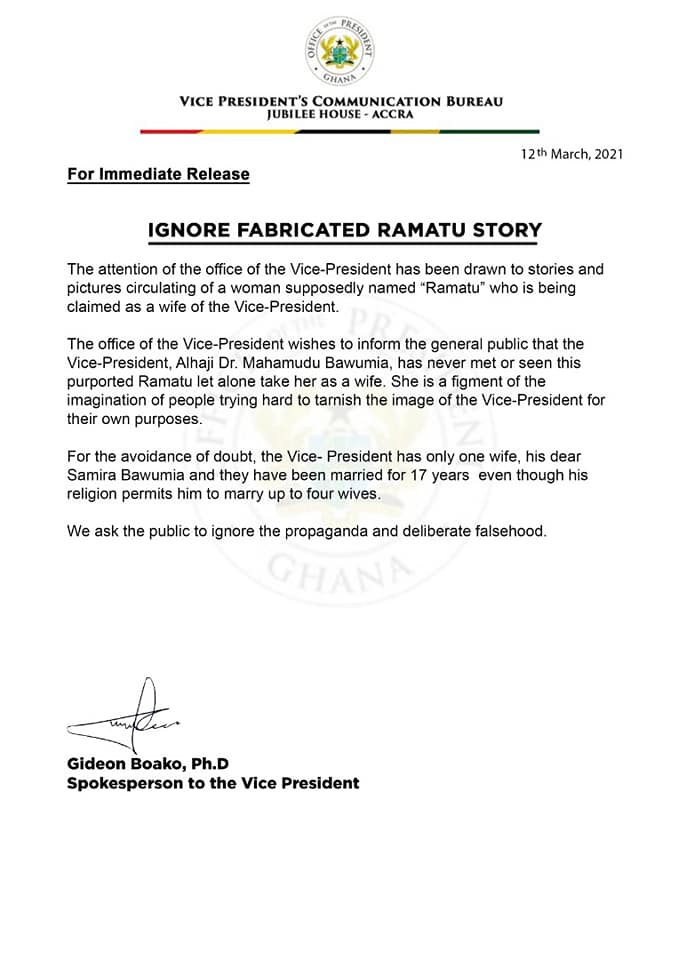 I hope you had a nice time going through the above article, subscribe to townflex.com by clicking on the bell icon 🔔 displaying in the bottom corner to receive our daily post updates first.