It strongly indicates that Granit Xhaka will depart this summer based on his recent comments. This situation is intriguing because Xhaka not only holds a prominent position in Mikel Arteta's team (only three players have logged more minutes this season), but he is also a valued presence in the dressing room.
After the Nottingham Forest game, Granit Xhaka addressed his future, which has been the subject of significant speculation regarding a potential move to Bayer Leverkusen. Xhaka expressed his thoughts, stating:
"You will know the latest next week, for sure I think they (the fans) deserve that and I do myself as well. We have one more week of this Premier League season, the first thing is I want to enjoy and, for sure, you guys will know next week what happens with my future."
"If next week we know much more about what happen with my future, I will be thankful to the fans because of how they treat me after this, I didn't expect that if I am honest. I am thankful for that and I want to give them something back for maybe my last game on Sunday."
Regardless of personal opinions on Xhaka, he is well-liked, possesses ample experience, and his departure would create a void in that aspect.
Consequently, it's understandable why there are numerous reports about Mikel Arteta's interest in Ilkay Gundogan from Manchester City. Gundogan's contract expires in the summer, and Arsenal are reportedly making significant efforts to secure his services.
However, City is keen on retaining him, and Barcelona has also shown interest, making the situation challenging to navigate. This particular scenario leaves me with slightly mixed feelings.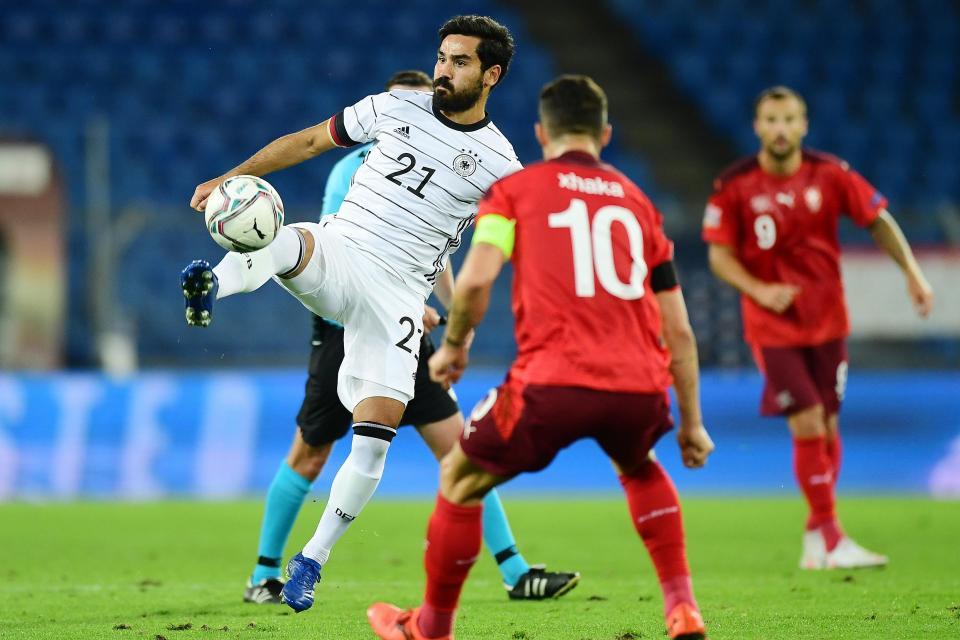 At 32 years old, Granit Xhaka is no longer a young player, and when we consider the ages of our current midfielders, it becomes an area that requires attention.
Xhaka himself is 30, Thomas Partey will turn 30 in June, Jorginho is 31, and Mohamed Elneny is also 30. While they are not exactly at retirement age, it's clear that they are not getting any younger.
Arsenal have been linked with younger midfielders like Declan Rice (24) and Moises Caicedo (21), which would help address this issue.
However, the Gunners have had past experiences where signing players in the latter stages of their careers or when they reach a certain age has resulted in decline. This history makes it hard not to feel a bit concerned.
Nevertheless, Ilkay Gundogan is a fantastic player who has been in excellent form this season.
If Xhaka were to leave, replacing his experience with someone who will soon have achieved success at Manchester City would be valuable.
Arsenal strive to build a team capable of competing in the Premier League and Champions League next season, Gundogan's intelligence and quality would be incredibly beneficial.
The reality is that we need a larger squad to provide the manager with better options and make rotation a more regular occurrence.
Having players like Gundogan, who are ready to contribute when called upon, would be crucial.
Certainly, Manchester City could offer Ilkay Gundogan a longer contract, and Barcelona could become an appealing destination if they manage to find more financial flexibility.
Therefore, nothing is certain in terms of his potential transfer.
However, this speculation does indicate that Mikel Arteta is actively seeking a player of Gundogan's profile for the coveted "left 8" position.
Although Fabio Vieira has been experimented with in that role this season without much success, it would be risky to consider him as the long-term solution based on his underwhelming performances thus far, as per our observations from his first season at the club.
Bringing in someone like Gundogan would provide Vieira with additional time to develop.
Regardless, the link to Gundogan is intriguing, but with the ongoing season yet to conclude, it's unlikely that we'll receive any substantial clarity on this matter soon, unless it pertains to him staying at Manchester City (which seems like the most probable outcome, in my opinion).
It appears that Arsenal are in for a summer filled with extensive transfer rumors.