According to regional governor Ridwan Kamil, an earthquake on Indonesia's main island of Java has killed at least 162 people and injured hundreds more.
According to US Geological Survey data, the powerful 5.6 magnitude quake struck Cianjur town in West Java on Monday morning, November 21, 2022, at a shallow depth of 10km (six miles).
Cianjur town in West Java is about 75 km (45 miles) southeast of the capital, Jakarta. The region is home to over 2.5 million people.
Per information gathered so far, Some 326 people have also been injured, while a total of 162 persons have lost their lives in the process.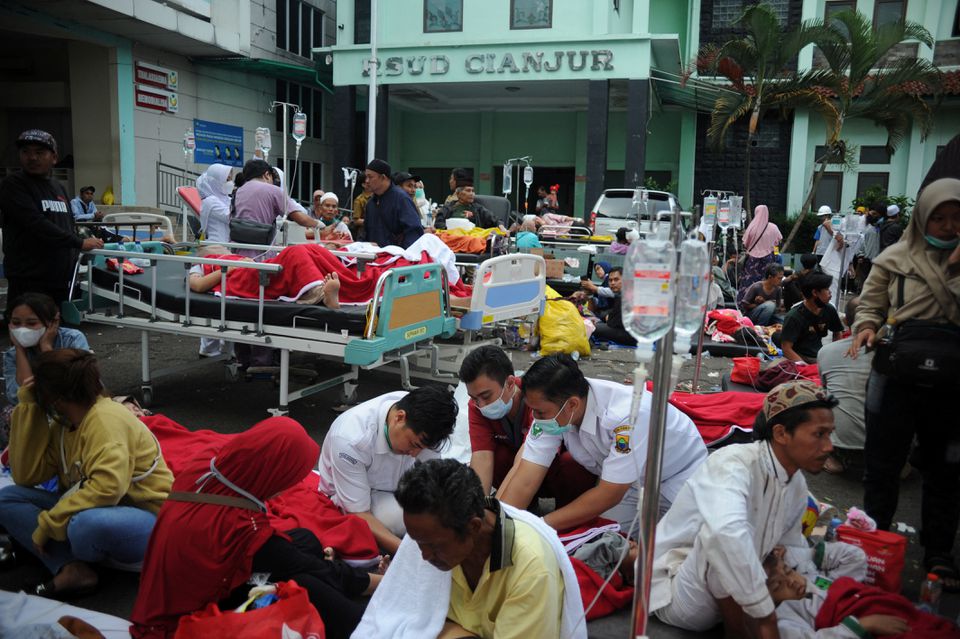 Indonesia Earthquake: The earthquake displaced 13,782 people, all of whom will be housed in 14 refugee camps. At least 2,345 houses were damaged.
According to the local office of the National Agency for Disaster Management, four schools and 52 houses were destroyed or severely damaged (BNPB). The agency also added that a mosque and a hospital were also damaged.
Herman Suherman, a government official in Cianjur, while speaking to the media disclosed that there are some residents who have been trapped in the rubbles of the collapsed buildings whiles the others who havwe been rescued and injured have been taken to the health facilities to receive medical attention.
It has also been established that this is because of power outages. Communications had been hampered.
Indonesia's disaster mitigation agency (BNPB) still placed the death toll at 62 and rescuers were searching for 25 believed to be trapped under rubble and its spokesperson said the search would continue through the night. according to Reuters.
Ridwan told reporters that given many buildings have collapsed, the death toll could rise.
"There are residents trapped in isolated places … so we are under the assumption that the number of injured and deaths will rise with time."
In 2004, a 9.1 magnitude quake off Sumatra island in northern Indonesia triggered a tsunami that struck 14 countries, killing 226,000 people along the Indian Ocean coastline, more than half of them in Indonesia.
See This: URGENT! Over 100 Illegal Constructions To Be Demolished In Accra