In a dramatic turn of events, Ivanka Trump's testimony in her father's New York fraud trial concluded amidst accusations and fury.
The former first daughter spent five hours on the stand, addressing questions about Donald Trump's finances, their properties, and her role within the Trump Organization.
Ivanka, the final witness for New York State, faced intense scrutiny in the trial accusing Donald Trump and his sons of inflating prices to secure better loan deals.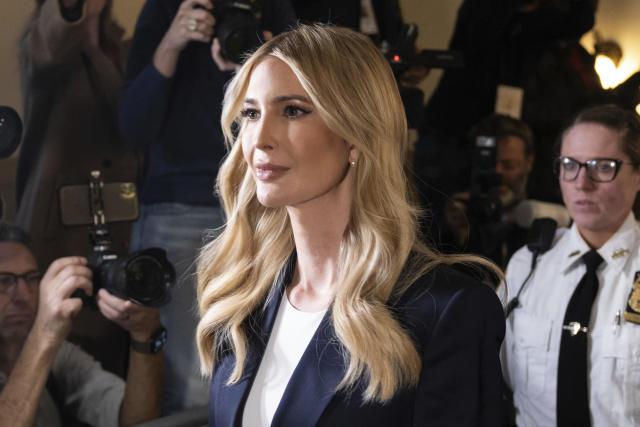 Tensions peaked when lawyer Jesus Suarez erupted in fury, accusing state attorneys of laughing during Ivanka's discussion of her 'labor of love' renovation project at the Old Post Office in Washington D.C.
The courtroom clash continued as Ivanka defended her interactions with husband Jared Kushner on loan deals.
Despite objections from Trump's lawyers, Justice Arthur Engoron allowed emails between Ivanka and Jared to be discussed.
The emails revealed discussions on Trump Organization loans and Kushner's involvement in advising on better deals.
Lawyers grilled Ivanka on her role in Deutsche Bank negotiations, revealing details of her $125 million loan request for the Doral golf club.
Suarez suggested the bank's happiness to be linked to the Trump family business.
As Ivanka discussed her father's love for golf and memories tied to Trump Doral, her demeanor warmed. Amidst clashes and heated moments, Ivanka emphasized her role in the family's development projects.
The trial delved into Ivanka's involvement in loan negotiations, with revelations about her attempts to lower the net worth required for a loan.
Denying knowledge of her father's personal financial statements, Ivanka distanced herself from the core of the case.
Despite objections from Donald Trump's lawyers, Ivanka remained composed, providing insights into the Trump Organization's financial dealings during a crucial day in the trial that could have far-reaching implications for the Trump family's business empire in New York.