Riyad Mahrez emerges from the fringes to be City's man for the big occasion.
The Algerian was the big reason Man City reached their first European final in 51 years.
Riyad Mahrez strikes twice to book Man City's place in Champions League final
Manchester City 2-0 Paris Saint-Germain (4-1 agg): A comprehensive display from back to front secured Pep Guardiola's first Champions League final since leaving Barcelona
Early drama at the Etihad as PSG penalty decision overturned by referee. Having seen the replays, this should be overturned. It's clear to see the ball hit Zinchenko on the top of his shoulder!
The penalty is quite rightly overturned but Pep Guardiola doesn't look too comfortable down on the touchline. He knows his side has been second best so far. Perhaps that break in play helps them settle."
Mahrez later in the first half puts City ahead with a calm finish.
There's a lot to admire about that Man City goal. A superb, drilled pass from Ederson but also a clever decoy run from Gundogan to create space for Zinchenko.
The left-back's cut-back to De Bruyne was beautifully precise and so too was Mahrez's diagonal finish. Clinical from City and just what they needed after a tricky start."
Riyad Mahrez is only the second player to score in both legs of a Champions League semi-final for an English club after Sadio Mane in 2017-18. The Algerian has either scored or provided an assist in each of his last five Champions League appearances.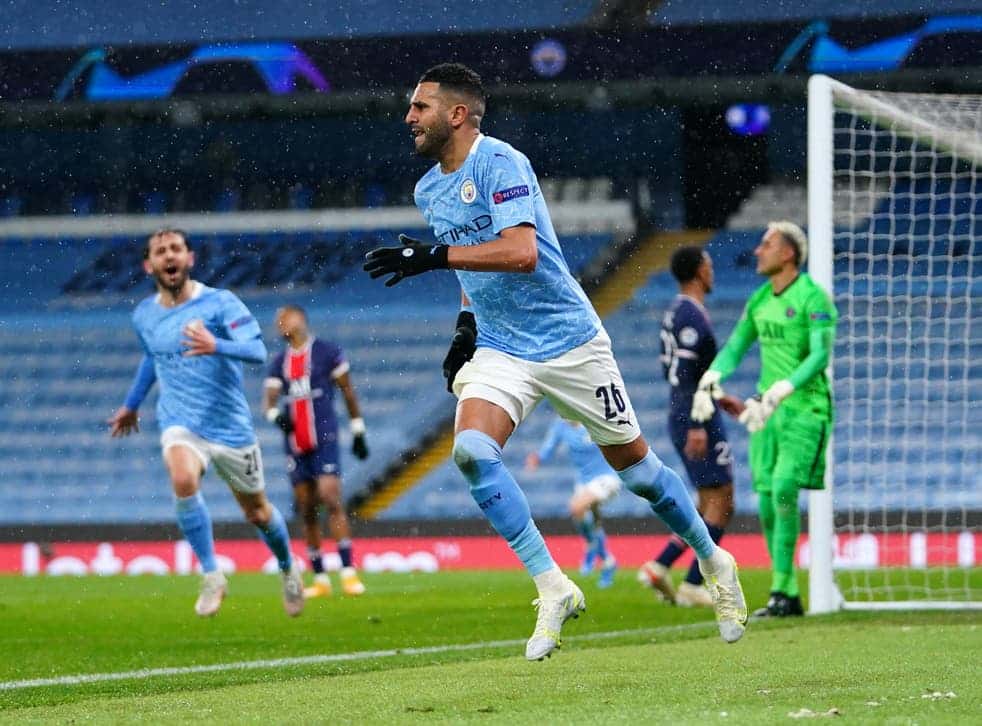 It's PSG's turn to ping it around in a sterile fashion. City's press keeps them on their toes, and they go nowhere, in particular, they missed out as Di Maria down the middle got Neymar and Icardi to his left, but hesitates, allowing City's defense to funnel back and get into position. Eventually, a high ball's flung into a crowded box and easily claimed by Ederson.
City breaks quickly to make it 2-0 PSG (Mahrez 63); agg 4-1, Foden and De Bruyne one-towing down the left. Foden into space. He rolls crisply across the face of the goal. Mahrez, coming in from the right, roofs home from six yards. Simple as that, but so lethal.
RED CARD Di Maria (69 min): It was always bound to happen. Di Maria and Fernandinho tussle over a throw. Fernandinho cheekily nudges the ball away. Di Maria flashes a kick at the Brazilian, clipping him. The referee has no option. Fernandinho perhaps went over easily, but he's played his opponent there. So stupid from Di Maria.
PSG played both Legs with 10men, and this was no different from the first game. it all happened when they needed a goal desperately but tempers were too high.
PSG missed out on a second shot at lifting a first European Cup after losing last season's final to Bayern Munich.
Meanwhile, City could contest an all-English final if Chelsea overcomes Real Madrid on Wednesday. On May 29, Manchester City will face either Chelsea or Real Madrid in the 2021 Champions League final!
Riyad Mahrez speaks to BT! "It was a very good game. We didn't start well again. We didn't have a very good first half but we scored the goal. In the second half, we played very well and could have scored more. They lost their nerves and started kicking us. After the red card, it was more comfortable for us. We were good at the counter, and that's how the two goals were. It is something we work on all the time, and today it worked well. Everyone had to contribute defensively, and that's what we did. We didn't concede much, and now we're in the final. We have a game on Saturday we have to win to be champions, and then we can concentrate on the final. Ah, finally!"
I hope you had a nice time going through the above article, subscribe to townflex.com by clicking on the bell icon displaying in the bottom corner to receive our daily post updates first.