Messi 'sneaks' into the Super Bowl with Brady, Jordan and Gretzky
Lionel Messi has been selected ahead of Cristiano Ronaldo as the International Federation of Football History and Statistics' (IFFHS) player of the decade, with the Argentine topping the list of ten players produced by the organisation.
Ronaldo sits in second place with Andres Iniesta and Neymar directly below him in third and fourth respectively.
Ronaldo may have won four Champions League titles between 2010 and 2020, and scored outstanding individual goals, it was decided that what Messi has done in the same time frame with Barcelona is more impressive.
Zlatan Ibrahimovic and Luka Modric sneak into the list at eighth and ninth, whilst Gianluigi Buffon and Manuel Neuer make up the two goalkeepers selected inside the top 10, although Keylor Navas' absence from the listing is one of the more surprising elements given he won three Champions Leagues with Real Madrid.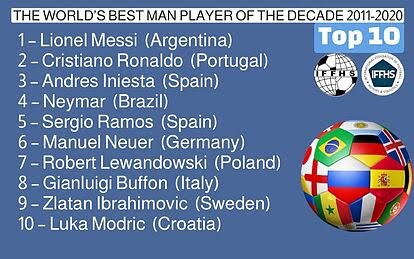 I hope you had a nice time going through the above article, subscribe to townflex.com by clicking on the bell icon 🔔 displaying in the bottom corner to receive our daily post updates first.