Millionaires Osei Kwame Despite and Ibrahim Mahama recently attended the 60th birthday party of retired police officer, COP Kofi Boakye.
The event, which was attended by several other celebrities, was held in grand style.
A video that has gone viral on social media shows Ibrahim Mahama exchanging pleasantries with Kwame Despite and other guests at the event.
In the video, Ibrahim Mahama is seen shaking hands with Kwame Despite before hugging him and enquiring about his well-being.
Watch Video below;
The meeting between the two prominent businessmen has sparked speculations among netizens about the purpose of their meeting.
Some have suggested that the two could be discussing potential business deals, while others have speculated about the nature of their relationship.
Despite being one of the wealthiest men in Ghana, Osei Kwame Despite has always maintained a low profile and rarely makes public appearances.
Ibrahim Mahama, on the other hand, is the CEO of Engineers and Planners, one of the largest mining companies in Ghana.
The birthday party, which was held in a private location, was attended by several other high-profile individuals, including politicians, businessmen, and entertainment personalities.
The event was reportedly a lavish affair, with guests treated to a sumptuous feast and drinks.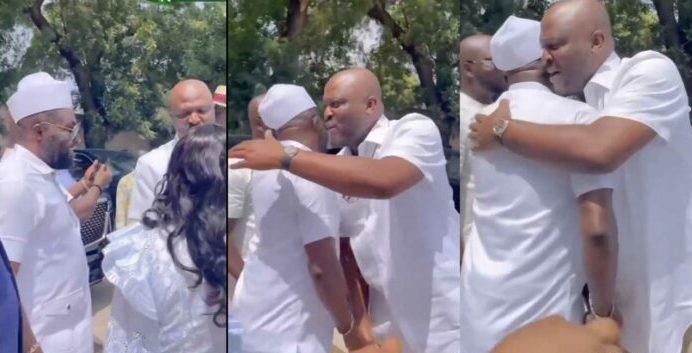 In Ghanaian culture, birthdays are often celebrated in grand style, with friends and family coming together to show their love and support for the celebrant.
The birthday party of COP Kofi Boakye was no exception, as it was attended by several of his closest friends and associates.
The meeting between Osei Kwame Despite and Ibrahim Mahama at the birthday party of COP Kofi Boakye has sparked curiosity among Ghanaians, who are eagerly waiting to see what the future holds for the two prominent businessmen.