American actor Michael Rainey Jr. of STARZ's Power franchise recently received death threats from Alkaline's Vendetta fans after he made a series of IG Story posts from a separate account comparing the Champion Boy and the Worl' Boss Vybz Kartel.
Best known for his role as Tariq St. Patrick on the hit TV show, which is executive-produced by rapper 50 Cent, Rainey Jr. got Alkaline's IG fans riled up when he posted a pic of the deejay from his Ardenne High School days with the caption, "Kartel Was Running Road When This Pic Was Taken N This N—a Think Him And Kartel A Size," with a few laughing emojis.
The 20-year-old, who is of Jamaican heritage on his mother's side, is a self-professed Gaza fan, citing the Teacha and his former students Tommy Lee Sparta and Popcaan among his favorite Dancehall stars. "Tommy Lee gives me a kinda easy, chill vibe and yuh done know Kartel do tune fi everybody. [W]hatever mood I'm in there is a Kartel tune," Rainey told The Observer on a previous visit to the island.
His comparison of the two head honchos didn't sit well with team Vendetta, however, and the star was soon receiving major pushback for implying the two weren't even in the same generation, let alone league. "That Post Touched U Lil Vendetta Fans Hearts," he said in a follow-up post before sharing snippets of the threats flooding his inbox.
Among the slights were "I think it's time for you to shut the f— up," as well as "He should clip yo a— the next time you come go to Jamaica", despite the fact that Alkaline resides overseas.
Rainey's subsequent post may have been an attempt to quell the brewing storm in his DM's, citing Kartel's advantage in age and experience within Dancehall's competitive terrain. "Nah All Jokes Aside Tho Y'all Really Can't Deny That Kartel Was Running Road When Alkaline Was In School. Kartel Been Making Music Forever. Literally Forever," Rainey Jr. wrote.
One of the threats that he reposted seems to have gotten the attention of the Fever deejay himself. "Vybz Kartel is rotting in prison even him can't save yo a—" a Vendetta fan claimed, but the keen Cake Soap deejay had time to air out the troll and rushed to Rainey's defense.
"Those are fake threats don't pay dem no mind….just a bunch of wanna-be angry fans, dem gaza imitation dem GCity #power ful @michaelraineyjr," Kartel shared on his IG Stories within a few hours. Rainey then reposted the deejay's remarks on his official Instagram page.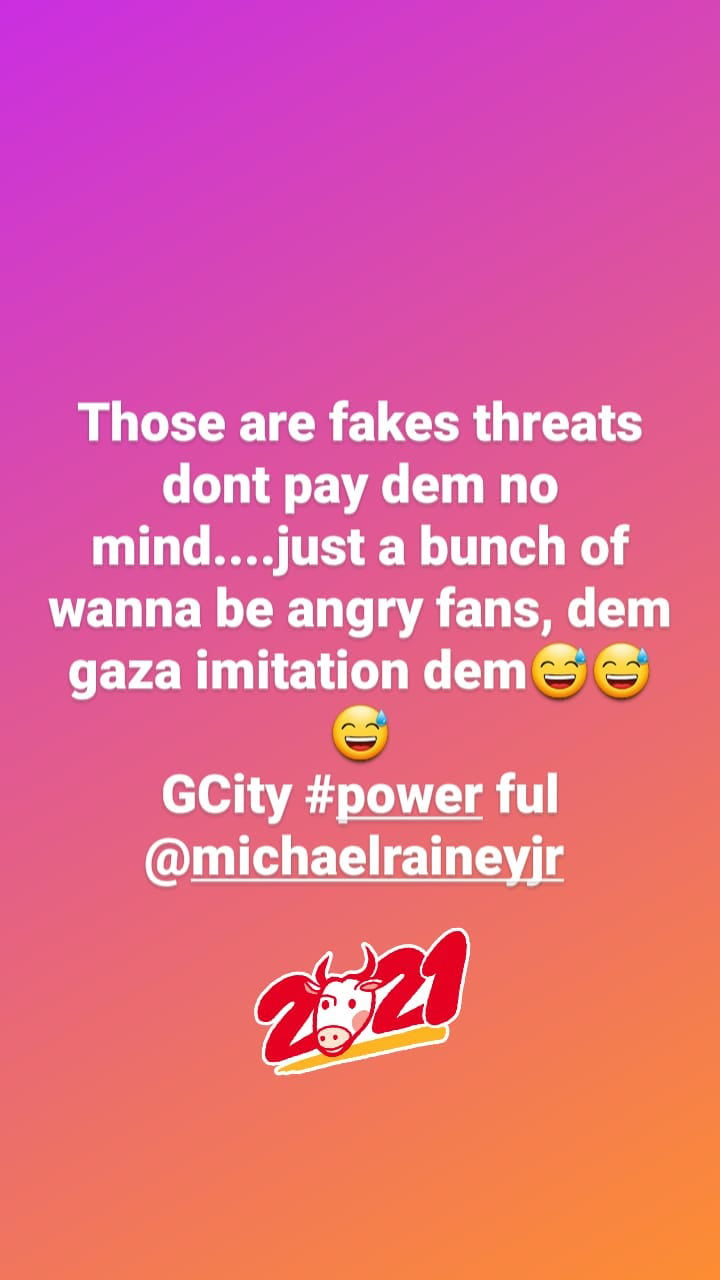 I hope you had a nice time going through the above article, subscribe to townflex.com by clicking on the bell icon 🔔 displaying in the bottom corner to receive our daily post updates first.