I know this might come as a very big surprise to many across the world not just to Ghanaians as a white young man represents and wins medals for Ghana in the ongoing WORLD ATHLETICS CHAMPIONSHIPS in OREGON, UK.
Well, it is what it is, he did win and made Ghana proud.
The young man who is born with his legal name Roger Haun III is according to sources confirmed as a Ghanaian.
Townflex.com has learnt that Roger first visited the West African country, Ghana for the first time when he was 1-year-old, it has also been revealed that he spend almost half of his life living in Ghana.
He Himself together with his family resided in Narerigu, the capital town of the North East region of Ghana.
According Mr. William Haun who happens to be the father of young Roger, he was given a local the name "Manboora" from birth which is interpreted as "I Want" by Naa Bɔhagu, Overlord of Mamprugu.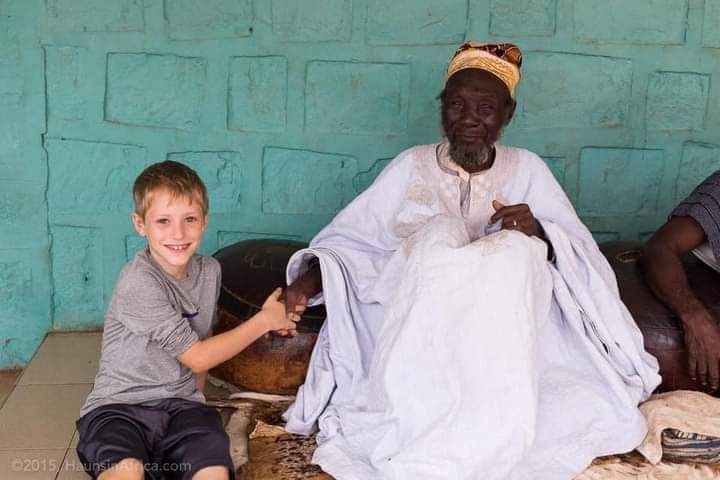 As at this very moment, he together with his father still resides at Narerigu.
Roger Haun Wins Medal For Ghana
Roger is currently in the news making headlines for winning two medals for Ghana and making the country proud.
He wom in the ongoing Unicycling World Championship, see below.
🥈 30m Wheel Walk Race (15-16yr Male)
🥉 50m One-Wheel Race (15-16yr Male)
Roger Haun III won the nation's first Unicycling World Championship medals for Ghana because any international competitions allow you to represent your birth nation or nation of the official residence.
Check out Photos Of Roger Haun III below
Below are some of the photos of the young man during the competition and after winning the medals all dressed up in Ghana-flag-coloured jersey (Red, Yellow, Green, Black).