In a recent report by Townflex, it was revealed that Ama Diana, popularly known as the 'Egyptian Borga,' has passed away.
Diana had made headlines after appearing on the "Oyerepe Afotuo" show hosted by Aunty Naa on Kumasi-based Oyerepa FM, where she shared her sad story.
According to Diana, she had traveled to Egypt from Ghana in 2017 with the help of her baby daddy, Samuel Twumasi Darko.
However, due to the demands of her work, she was unable to communicate regularly with Darko, which led to strain in their relationship.
Diana claimed that Darko became overbearing and started putting pressure on her financially, eventually leading to a disagreement and a breakup.
Diana later noticed physical changes in her body in 2021 and was forced to return to Ghana with the help of the Ghanaian community in Egypt. She was diagnosed with a liver problem, and her womb was destroyed, leading to her admission to several hospitals.
Despite her efforts to seek healing, Diana's condition did not improve, and she had to sell the land she had purchased to take care of her medical bills.
She was left broken and in a sorry state, and according to reports, her health continued to deteriorate until her passing on March 15, 2023.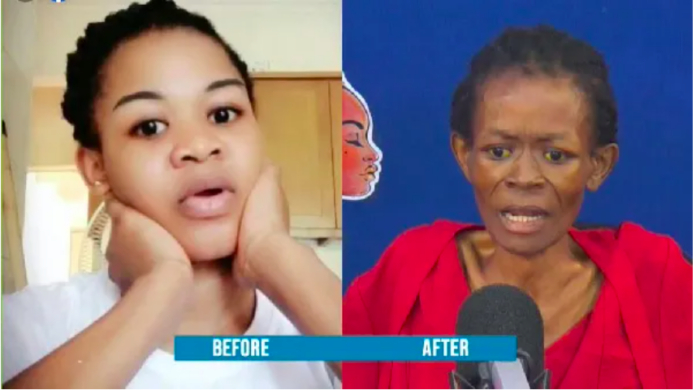 Many have attributed Diana's illness and unfortunate demise to the curse her baby daddy placed on her during their disagreement.
Diana had claimed that Darko told her she would suffer after their breakup, and she had since been plagued with health challenges that she could not explain.
The news of Diana's passing has saddened many, with several people taking to social media to express their condolences and call for justice for her.
The circumstances surrounding Diana's death have once again brought to light the dangers of sponsorship relationships and the need for individuals to be careful when entering into such arrangements.
In conclusion, the passing of Ama Diana is a reminder of the need for caution and discernment in all relationships, especially those that involve financial arrangements.
It is a sad end to a life that was full of promise, and we can only hope that her story will serve as a warning to others.
May her soul rest in peace.