A video currently trending online has captured the moment a side chick was caught hiding on a balcony ledge while trying to evade her sugar daddy's wife.
The incident happened when the man's wife returned home unannounced and caught the side chick by surprise.
In the video, the scantily dressed side chick can be seen jumping over the balcony fence and hiding on a narrow ledge on the wall in a bid to avoid being seen by the woman.
Meanwhile, the man and his wife are seen arguing on the balcony, much to the amazement of their neighbours.
As the argument between the couple comes to an end, the wife starts descending the stairs and the side chick quickly climbs upward to hide on the balcony.
It appears that the side chick had gathered her belongings, although she did not have time to put them on, and was trying to make a quick escape.
However, her escape plan was foiled when the neighbours alerted the wife, who then gave her a hot chase while she was running away.
The side chick initially managed to evade the wife by hiding on the balcony for over 20 minutes, but her luck ran out when she was spotted and chased.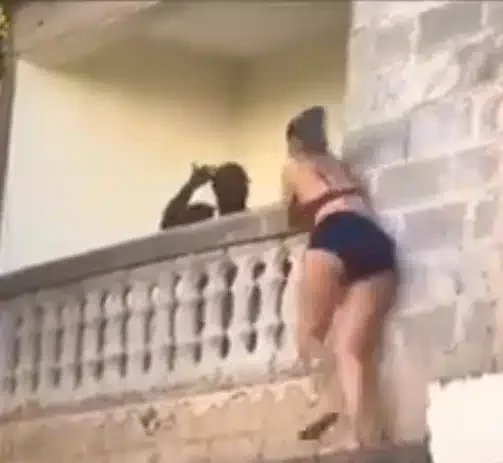 The video has generated mixed reactions on social media, with many people expressing their shock and amusement at the bizarre incident.
Some viewers criticized the side chick for her reckless behavior and for getting involved with a married man, while others sympathized with her plight and blamed the man for leading her on.
It is unclear what happened to the side chick after she was caught, and neither the man nor his wife has commented on the incident.
Nevertheless, the video has served as a cautionary tale for anyone considering getting involved in a love triangle, as the consequences can be both embarrassing and potentially dangerous.
As always, it is important to remember that cheating is never a good idea and can lead to serious consequences for all parties involved.
Check out the video below:
Sidechick Turn to Spiderman to Escape Man's Wife 🤣

Tinubu is in France Appeal Court Apologize Abati The 800k Rufai The CJN Solomon Buchi Pastor B Oyetola Lil Kesh pic.twitter.com/HEVnecKbpu

— King Smith👑 (@Kingndusmith) March 24, 2023