Stefflon Don, a British rapper and singer, has left many internet fans speechless with her newly published revelations about why she dumped her ex-lover, Burner Boy.
The Singer who is born with her legal name Stephanie Victoria Allen, and her Nigerian Grammy Award-winning ex-lover, Burna Boy used to be the talk of the town during their moment of dating until things went sideways and they had to call it a quit as they both went their separate ways.
Burna Boy confirmed the news of their break up via social media. The duo dated for a period of three years had a rocky relationship, with even though there were several claims of infidelity here and they managed to move along until a point they realized they couldn't continue.
Well, it's 2022, and Stefflon has just revealed some shocking revelations about why she left Burna Boy, which has surprised many of their admirers.
Her main arguments were that the Nigerian singer, Damini Ebunoluwa Ogulu, nicknamed Burna Boy, has a fragile ego and constantly sees his colleague artist, Wizkid, as his competitor despite the fact that Wiz is greater than him.
She stated once more that she was unhappy in the relationship, claiming that Burna couldn't please her well enough in bed andding that he bull!ed her the last time she wanted to talk.
"I broke up with Burna Boy because he has a fragile ego. He sees his friend Wizkid as a competition, despite knowing Wizkid is bigger than he is. He can't even satisfy me in bed. SMH. He bullied me the last time I wanted to talk, but not anymore," she wrote on her Instastories.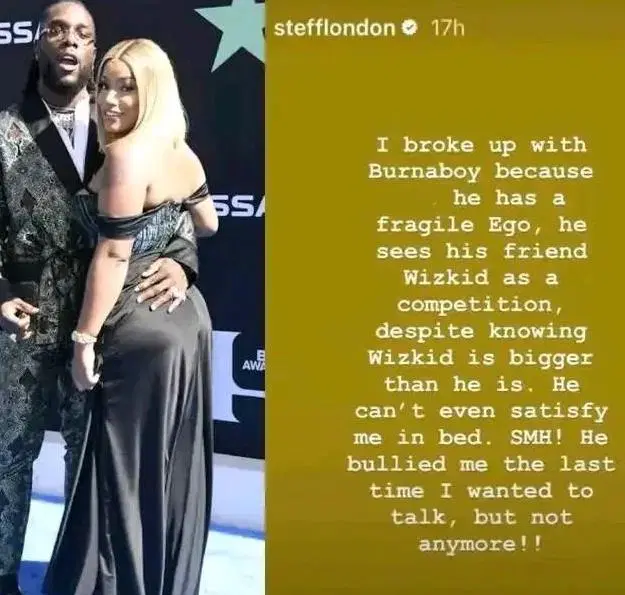 It is not yet established as to what led to Steff's new revelation many months after their break up, but from what Townflex knows, it could be an attack from Stefflon to Burna after reports gathered from sources stated that Burna Boy dissed her in one of her hit songs 'Last last'.
Also Read: I only removed fat from my tummy, I didn't enhance my Bortos-Nana Ama Mcbrown