A 39-year-old woman named Lilian Nwarache has tragically lost her life after ingesting insecticide in a heart-wrenching incident that unfolded on Friday, November 3, in the Iwaya area of Lagos State.
In a distressing turn of events, Lilian Nwarache consumed the toxic insecticide and made a desperate attempt to jump into a nearby canal.
Thankfully, vigilant passersby intervened, preventing her from taking that fateful leap. Instead, they quickly placed her in a keke napep, a type of auto-rickshaw, and rushed her to a nearby hospital in a race against time.
Despite the efforts of those who came to her aid, Lilian's condition deteriorated rapidly, and she was confirmed dead at the hospital.
The heartbreaking revelation behind this tragedy is that Lilian Nwarache had been grappling with a debilitating illness that had proven resistant to treatment.
Desperate for a cure, she turned to a local church in Iwaya for healing. However, when the expected relief failed to materialize, her frustration deepened, ultimately culminating in her shocking decision to ingest a full bottle of a popular brand of insecticide.
The Lagos State Police Public Relations Officer, Benjamin Hundeyin, confirmed the incident, saying, "It was reported on Friday, around 2 pm, at the Sabo police station, that a woman, 39-year-old, with an unknown address, committed suicide."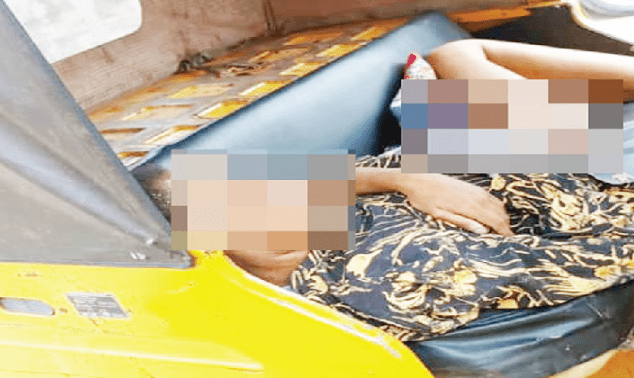 READ ALSO: Lady dies during 'sex marathon' with boyfriend
Hundeyin further revealed, "She had been having a protracted illness and visited a church for prayers. But while in the frustrating condition, she drank a full bottle of a popular brand of insecticide and was making frantic efforts to jump into the canal.
She was prevented and rushed to the health center Iwaya where she was confirmed dead by a medical doctor on duty."
The police are actively working to contact Lilian Nwarache's family members, and her body has been transferred to the Lagos Mainland Hospital Mortuary for a comprehensive autopsy.
This tragic incident serves as a stark reminder of the importance of providing support and understanding to those battling illnesses and emotional struggles, while also highlighting the need for accessible mental health services.