A set of twin sisters have raised an alarm while crying for help as they claim that their parents want to use them for rituals.
The young ladies who have been identified as Fowotade Abimbola Esther and Fowotade Adebola Esther are graduates of the Federal University of Agriculture Abeokuta, Ogun state.
The sisters, who are from Lagos state, claimed in a video they shared on social media that they escaped from home as the ritual was going to take place that night.
In the video, the twins alleged that their parents, Fowotade Joseph Sunday and mother Fowotade Pamela, want to sacrifice them for rituals.
"Nigerians, we need your help. Please stand and fight for us. We are not safe, we are hiding. Our life is in great danger, they are trying to kill us. Please come to our rescue. The whole family is involved," the sisters alleged.
The video has been circulating on social media, with many Nigerians expressing concern and calling for the authorities to intervene.
The sisters have also urged people to share the video until the Nigerian police see it.
It is unclear at this point whether the authorities have taken any action to protect the sisters or investigate the allegations made in the video.
However, the video has sparked outrage and concerns about the prevalence of ritual killings in Nigeria.
Ritual killings, which involve the use of human body parts for traditional or spiritual purposes, are not uncommon in Nigeria.
The country has seen a rise in the number of ritual killings in recent years, with some cases involving the killing of children.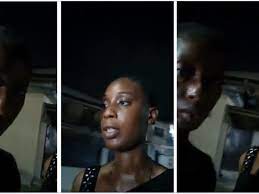 The Nigerian government has been criticized for its failure to address the issue of ritual killings, with many calling for tougher penalties for those involved in the practice.
As the video continues to circulate online, many Nigerians are hoping that the authorities will take action to protect the twin sisters and investigate the allegations made against their parents.