Twitter has informed employees that the company's office buildings will be temporarily closed beginning today.
Twitter's offices have been closed: Elon Musk immediately locked his Twitter offices, which, according to reports, will be reopening next week Monday, without any former warning to workers, and also as it stands, all Twitter staffers' badge access has been suspended until Monday.
This move by Musk has highly been trashed by many out there as it doesn't speak well of the microblogging platform and could sabotage the company.
There have been no reasons given as to why the offices had to close down immediately.
The company said in a message sent to Twitter employees made obtained by the BBC that office buildings would be temporarily closed and all badge access would be suspended until Monday.
The text reads below.
"Hi,

"Effective immediately, we are temporarily closing our office buildings and all badge access will be suspended.

"Offices will reopen on Monday, November 21st.

"Thank you for your flexibility. Please continue to comply with company policy by refraining from discussing confidential company information on social media, with the press or elsewhere.

"We look forward to working with you on Twitter's exciting future.

"Twitter."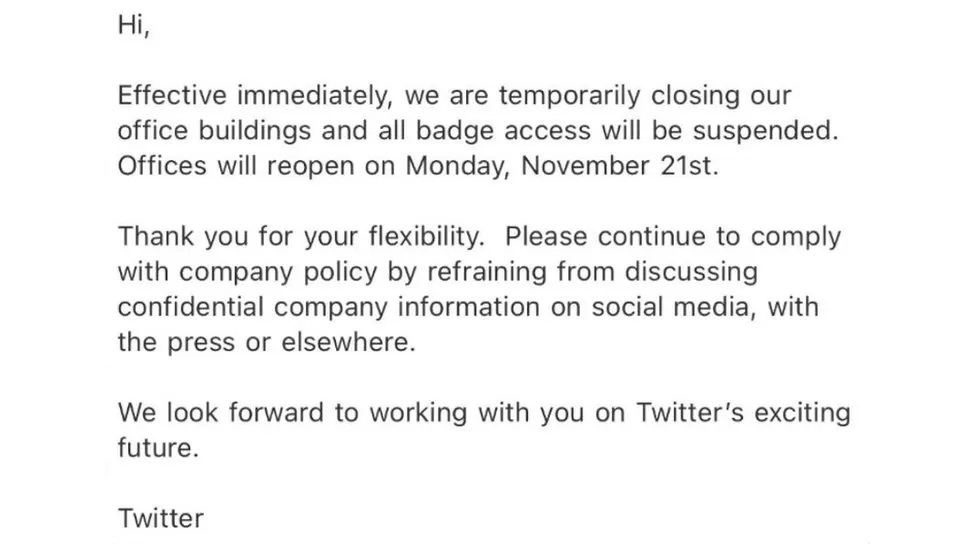 The announcement comes amid reports that large numbers of staff were quitting after new owner Elon Musk called on them to sign up for "long hours at high intensity" or leave.
The message went on to say: "Please continue to comply with company policy by refraining from discussing confidential company information on social media, with the press or elsewhere."