The Volta Region of Ghana went wild with excitement during the Independence Day celebrations on March 6, 2023, as President Nana Addo Dankwa Akufo-Addo arrived in Adaklu to mark the country's 66th independence anniversary.
The President's decision to take the Independence Day celebrations to various regions, including the Northern Region (Tamale), Ashanti Region (Kumasi), and the Central Region (Cape Coast), has been well received by Ghanaians so far, with the Volta Region being no exception.
As the President arrived at the parade grounds, he was welcomed by cheers, singing, music, and dance from the ecstatic crowd.
In interviews with GhanaWeb prior to the event, residents of the region expressed their delight at the prospect of hosting the Independence Day celebrations, citing the business opportunities it would bring and the potential for development in the area.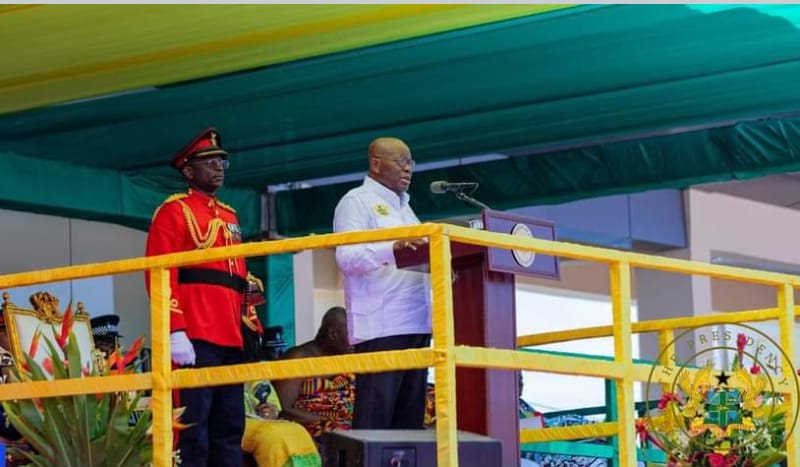 The President's grand entrance with horses and police dispatch riders added to the excitement of the crowd. At least 20 motorcycles and 20 horse riders led the President's vehicle into the venue, which was greeted with screams from the crowd.
The President, dressed in a white shirt and black trousers, was welcomed by the organizers of the programme and proceeded to the set stage for the National Anthem of Ghana to be sung.
President Nana Akufo-Addo's signature phrase, "Fellow Ghanaians," appeared to have trickled down to the grassroots, as the crowd responded in an enchanting way to his speech.
The Volta Region's warm response to the President's visit is particularly significant given the history of booing incidents in the region.
Although not directly related to President Akufo-Addo, the booing incident that occurred during the 2022 Hogbetsotso Za of the Anlo people raised questions about the reception of Voltarians towards the leadership of the New Patriotic Party (NPP).
However, the warm reception the President received during the Independence Day celebrations shows that the region is willing to work with the current administration towards development and progress.
In conclusion, the Volta Region's excitement during the Independence Day celebrations is a testament to the positive impact the President's decision to take the celebrations to various regions has had on Ghanaians.
The event brought business opportunities and potential for development to the region, and the warm reception the President received shows that there is a willingness to work together towards the common goal of progress and development.