Ghanaians might be witnessing soon the second wave of the beef between Lynx Entertainment star Kuami Eugene and NKZ's rapper, Guru following recent posts from Kuami.
Just as we all thought things between the two have gone down to make way for peace to rule, it seems there is going to be a revival soon, a comeback of the issue between Lynx Entertainment and NKZ Music.
Recall that some weeks back, social media was heated following the back and forth exchanges between Kuami Eugene and rapper Guru which came into existence after Kuami spoke about his reasons for refusing to accept a featuring request from the rapper which he claimed was because Guru disrespected his boss Richie Mensah the C.E.O of Lynx Entertainment.
From the look of things I can tell that the calmness of their issue might not stay as it is, there might be a revival of it judging from the recent post from Kuami on social media, his recent posts can easily spark an ignition.
Kuami Eugene who performed at 'My Home Land Concert' in New Jersey a few days ago made a number of posts today, Wednesday, March 10, 2021, which a lot of people decided that he was throwing shots at rapper Guru.
As we all know, Guru is the latest act who had a recent beef with the Lynx star and all shades are automatically pointed at him so far as Ghanaians are concerned.
In one of the posts, Kuami stated that a lot of people have wasted the attention he gave them, saying that opportunity comes but once, as they missed the chance he gave them to yield something nice.
He wrote;
Just Been Away For A While. They Wasted All The Attention I Gave Them. Opportunity Comes But Once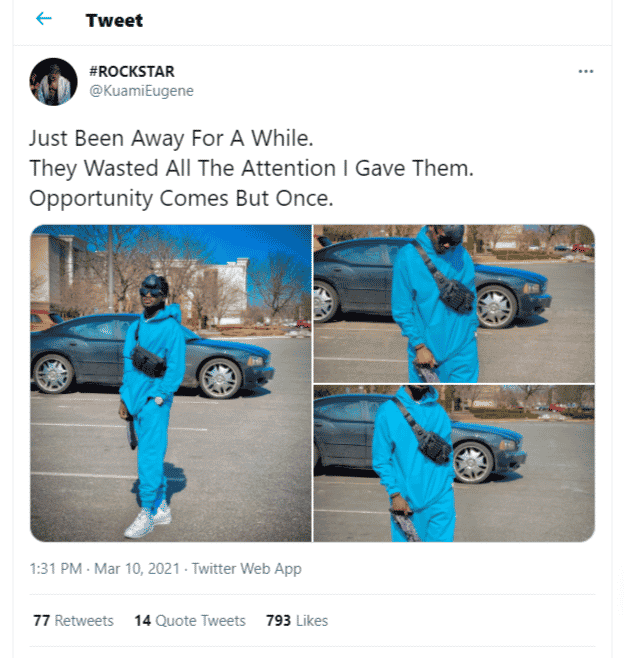 Also in another post that saw the Open Gate singer share a link to the video of his performance from his recent show, he again wrote saying that Sometimes Beef Is Like A Death Sentence.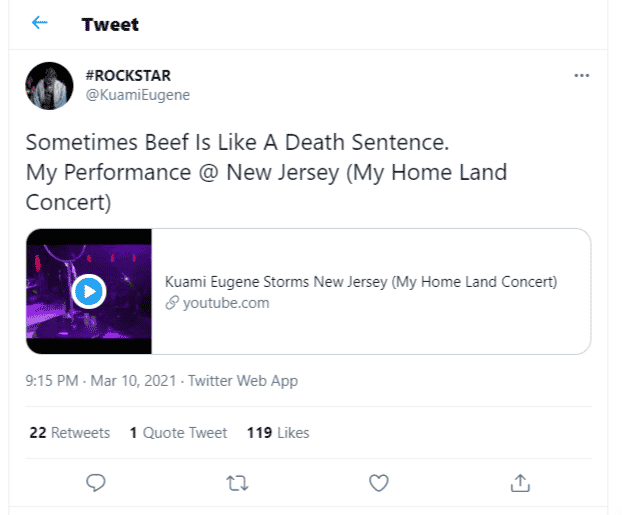 Well from all these updates from him, Ghanaians after accessing it says it is likely we will soon be witnessing the second wave of their beef.
Meanwhile, the NKZ music boss Guru has been silent and is yet to pass a comment regarding this new development.
I hope you had a nice time going through the above article, subscribe to townflex.com by clicking on the bell icon 🔔 displaying in the bottom corner to receive our daily post updates first.