Wiyaala Announces Her 2019 European Tour [Date + Venues]
townflex
The Lioness of Africa, The Doer, Wiyaala Announces dates and venues of her new upcoming European Tour 2019.
The Tour is scheduled to kick start from 14th May and to end on August 24th according to first flyer released, Countries to thrill include; Holland, Germany, Israel, Norway, Switzerland, London, Slovenia as shown below.
Also See: Download Patapaa Ft. Stonebwoy – Sweet Honey
Tour Dates & Venues:
14 May: Celical Hostel, Warm Up Show, Ljubjana, Slovenia.
15 May: Africa Day Concert, MOFA, Ljubjana, Slovenia.
22 May: Concert, Wiyaala & Refugee Choir, London.
30 May: New World Festival, Wiyaala & Patchbay, Dimoba, Israel.
10 Jun: Afro-Phingsten Festival, Winterthur, Switzerland.
22 Jun: Migration Matters Festival, Sheffield, UK.
04 Jul: Kenako Afrika Festival, Berlin, Germany.
10 Jul: Riddu Riddu Festival, Samuelsburg, Norway.
18 Jul: Welcome To The Village Festival, Leeuwarden, Holland.
24 Aug: Alafia Festival, Hamburg, Germany.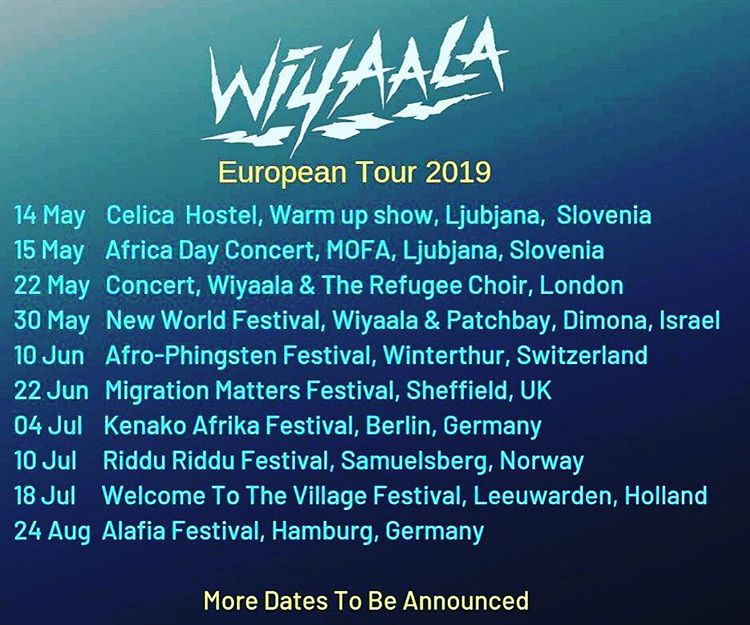 More dates to be announced soon for Wiyaala European Tour 2019. For tickets click HERE.
I hope you had a nice time going through the above article, subscribe to townflex.com by clicking on the bell icon ? displaying in the buttom corner to receive our daily post updates first.
Source: Townflex