In a horrifying incident on the evening of October 19, an unidentified woman lost her life after a 40ft container toppled from a moving trailer at the bustling Eze-Iweka area near Upper Iweka Bus Stop, along the Onitsha-Owerri Road.
The accident unfolded as the truck came to a stop by the roadside, with workers in the process of unloading cargo.
Unexpectedly, the parked truck began moving, setting off a chain of devastating events. The 40ft container it was transporting dislodged and fell, tragically crushing a woman who happened to be standing near the road.
Shockingly, the victim remained trapped beneath the weighty container as rescue operations commenced to extricate her lifeless body.
The acting Sector Public Education Officer of the Federal Road Safety Corps (FRSC), Margaret Onabe, confirmed the incident.
READ ALSO: British Woman Receives Death Penalty for Husband's Murder in India (See Details)
She attributed the crash to brake failure and revealed that efforts were underway to secure a crane capable of raising the massive container.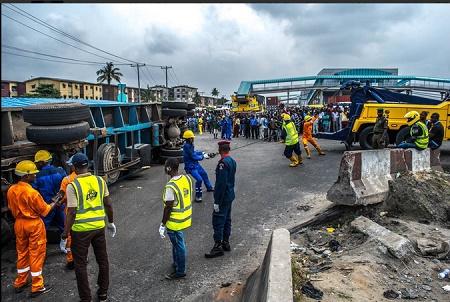 "On Thursday at approximately 15:08hrs, an unidentified driver of a commercial Mark trailer was involved in a road traffic accident.
The probable cause of the fatal crash was brake failure. According to eyewitnesses, the truck was parked, goods were being offloaded, and all of a sudden, it rolled off without a driver inside and hit one person.
Tragically, one female adult was involved, and she lost her life due to the 40ft container that the trailer was carrying.
The FRSC rescue team and the Awada police team rushed to the scene, where they initiated efforts to locate a crane capable of lifting the 40ft container that had entrapped the victim of the road traffic crash," stated Margaret Onabe.
The Awada police division is also actively involved in the investigation to ascertain the circumstances leading up to the accident and take necessary actions.
This tragic incident serves as a sobering reminder of the importance of vehicle safety and maintenance on the nation's roads, particularly for heavy-duty vehicles.