Lynx entertainment star, KiDi causes stir on social media with his birthday message to his younger brother and label-mate, Kuami Eugene who turns 24 today.
Kuami Eugene born Eugene Kwame Marfo turns on a new leaf today, Monday, February 1, 2021 as he turns 24 making, the trends as friends and colleagues on social media pours his photos on their walls and profiles to wish him well.
Amongst all the wishes on social media, one particular wish to him from his own label-mate KiDi amazes everyone and got people talking.
KiDi took to his official Instagram account and shared a short video of Kuami's Amen Video newly released, captioned it with his birthday message, his wish to Kuami for turning 24 years old is for him to get married as he says he has come of age, matured and now ready to get married.
"Happy birthday to the rockstar. You're finally ready for marriage, look sharp. @kuamieugene" KiDi wrote.
The Open Gate crooner quickly took to the comment section of the post made by his label-mate and gave a funny response.
He replied saying he is waiting to first sing at KiDi's wedding as his younger brother and that from there he will follow up with his own. See Below.
" I'm waiting to sing at your wedding as a younger brother. Then I can follow up with mine" Eugene replied KiDi.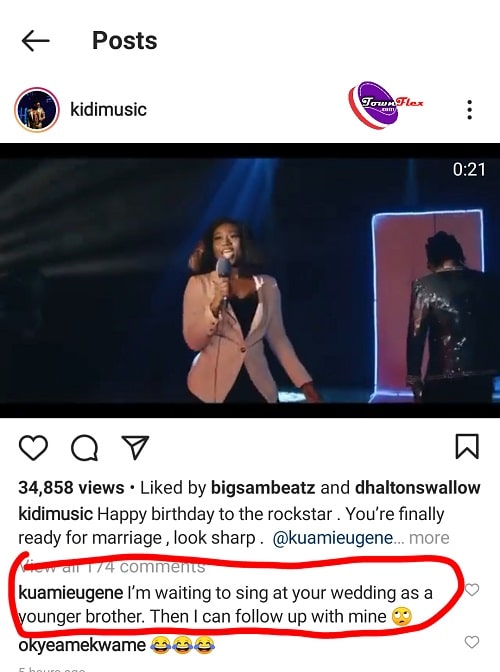 I hope you had a nice time going through the above article, subscribe to townflex.com by clicking on the bell icon 🔔 displaying in the bottom corner to receive our daily post updates first.