In a stunning display of skill and determination, Inter Miami made an extraordinary comeback from a two-goal deficit to secure a place in the US Open Cup final.
The dramatic victory, aided by a sensational assist from Lionel Messi, has silenced allegations of match-fixing that have surrounded the team's recent successes.
The triumph comes just days after the former Barcelona trio of Messi, Sergio Busquets, and Jordi Alba led Inter Miami to their inaugural trophy, clinching the Leagues Cup title after a penalty shootout against SC Nashville.
The remarkable turn of events unfolded during a thrilling clash with FC Cincinnati, a match that will be etched in Inter Miami's history.
Trailing by two goals, the team faced a daunting challenge, but Lionel Messi stepped up to the plate with an awe-inspiring assist in the 97th minute, leading to extra time.
The sheer brilliance of the players transformed the match into a spectacle reminiscent of a movie script.
Addressing recent speculations of match-fixing, Inter Miami owner and football legend David Beckham responded with unwavering support for his team and players.
Beckham, in an interview following the victory over Nashville, dismissed claims that their recent wins were scripted, stating that such accusations were the "biggest compliment" anyone could give his players.
He praised Messi, Busquets, and Alba for their artistry, both on and off the pitch, emphasizing the emotional and beautiful nature of their play.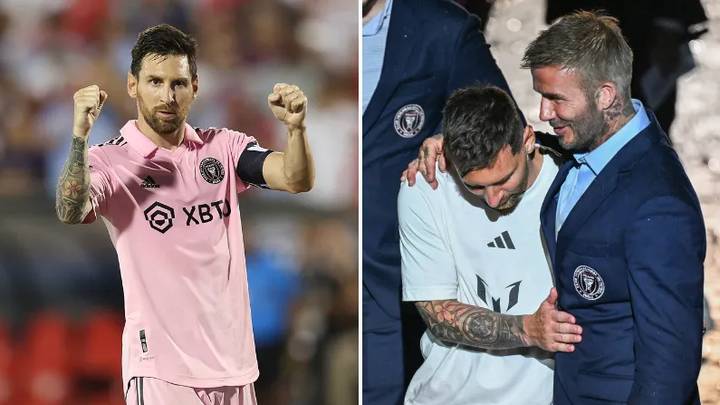 Beckham's words echoed the sentiments of fans worldwide who have been captivated by the mesmerizing performances of Inter Miami's star trio.
The narrative of their victories has been nothing short of magical, with Messi's brilliance on full display as he orchestrated plays and demonstrated exceptional teamwork alongside his former Barcelona comrades.
As Inter Miami progresses to the US Open Cup final, their journey reads like a fairytale, complete with extraordinary goals, dramatic comebacks, and the brilliance of players who continue to prove their mastery on the field.
The accusations of match-fixing have been replaced by awe and admiration, solidifying Inter Miami's reputation as a team driven by skill, passion, and a relentless pursuit of excellence.
In a world where sports can often blur the lines between reality and fantasy, Inter Miami's recent victories stand as a testament to the power of genuine talent and teamwork.
As fans eagerly await the upcoming US Open Cup final, one thing is certain: the magic woven by players like Messi, Busquets, and Alba will continue to illuminate the beautiful game of football.
For more stories like this, click link to visit our Latest Sports News Page.
Do you enjoy reading from Townflex? Do You Want Notifications From Us On Our Latest Post? If so, click on the Red bell icon below to subscribe to our feed, which will appear in your smartphone's notification after we publish a new article. You may also follow us on Twitter at @Townflexgh, Facebook at Townflex, Telegram at @Townflex, Townflex on Pinterest, Townflex on TikTok, Townflex on YouTube, and Townflex on Google News.