US President Joe Biden delivered a 15-minute address from the Oval Office on Thursday night, focusing on the escalating conflicts in Ukraine and Israel.
During his speech, he issued a warning that "chaos will spread" if the international community does not act swiftly.
The president called on Congress to pass new funding of approximately $100 billion, but this request is already encountering resistance from Congressional Republicans, who are cautious about allocating additional funds to Ukraine.
Biden pointed out that Russian President Vladimir Putin and the terror group Hamas, though representing different threats, share a common goal – the desire to eliminate neighboring democracies.
He emphasized the importance of containing such aggressors to prevent further global instability.
The president drew a connection between Ukraine and Israel by highlighting Iran's involvement in both conflicts.
Biden stated, "Iran is supporting Russia in Ukraine and it's supporting Hamas and other terrorist groups in the region," adding that the US would continue to hold Iran accountable.
Biden stressed the significance of American leadership, alliances, and values in maintaining global stability. He underscored the critical importance of not abandoning Ukraine and Israel, as doing so would put American interests and security at risk.
The president expressed concerns about Putin's ambition for power and control, suggesting that his actions might extend beyond Ukraine and potentially involve NATO countries. Biden unequivocally stated that the US does not seek a military confrontation with Russia.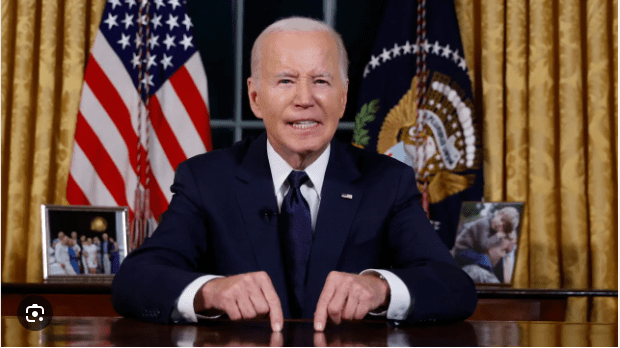 READ ALSO: Intimidation Tactics Cast Shadow Over Jim Jordan's Speakership Ambitions
Turning his attention to the recent hostage situation involving Americans abducted by Hamas in Israel, President Biden reassured their families, stating, "As president, there is no higher priority for me than the safety of Americans held hostage."
He described the terror unleashed by Hamas and emphasized the urgent need to deliver humanitarian aid to Gaza, where civilians are suffering amid ongoing hostilities. The president called on Israel to operate by the laws of war, protecting civilians to the best of its ability.
Biden noted that his discussions with Israeli Prime Minister Benjamin Netanyahu and Egyptian President Abdel Fattah El-Sisi had led to an agreement for humanitarian assistance from the United Nations to Palestinian civilians in Gaza. He urged Hamas not to interfere with the delivery of this vital aid.
In conclusion, President Biden affirmed the United States' commitment to peace and a two-state solution, emphasizing the importance of Palestinian self-determination.
He expressed sorrow for the loss of Palestinian lives, particularly at the hospital in Gaza, attributing it to an errant rocket launched by the Palestinian Islamic Jihad, not the Israelis.