Award-winning Ghanaian rapper, singer, and songwriter, Black Sherif, has reportedly been arrested, according to information gathered by Townflex.
The news of his arrest was initially broken on the internet by Ghyhper via an Instagram post, revealing that the rapper was detained at Kotoka International Airport (KIA).
It has not been confirmed whether the rapper, whose legal name is Mohammed Ismail Sherif Kwaku Frimpong, was taken into custody upon arriving in Ghana after a trip or if he was apprehended while preparing to embark on a journey.
"Breaking News: Black Sherif Arrested at KIA… Details Of his arrest coming up shortly." he shared on Instagram.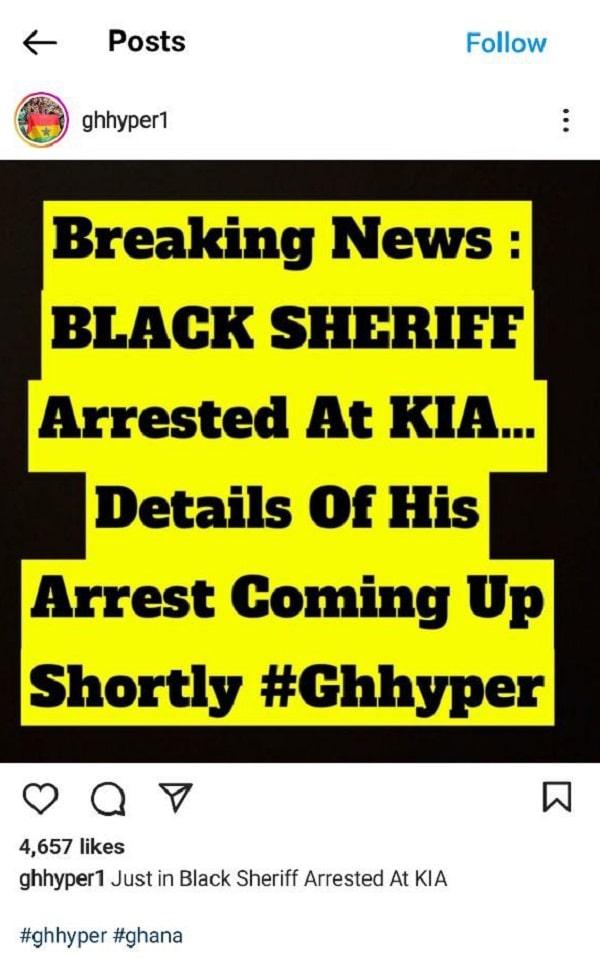 Why Was Black Sherif Arrested?
The exact reasons for the rapper's arrest are currently unclear. However, according to another Instagram post made by Ghhyper, it seems that Black Sherif was arrested due to an alleged breach of contract.
Ghhyper claims that he recommended Black Sherif to perform at a gig organized by Cruise Ship and that the rapper received a significant amount of money for it. However, Black Sherif apparently failed to fulfill his part of the deal, leading to his reported arrest.
Ghhyper also stated that if Black Sherif's management denies the arrest, he will provide video evidence showing the sequence of events from the Airport to the CID headquarter
Ghhyper captioned the post saying "Dear Gh Artists, If you take money from an event organizer, Just do your part of the bargain. Simple as ABCD."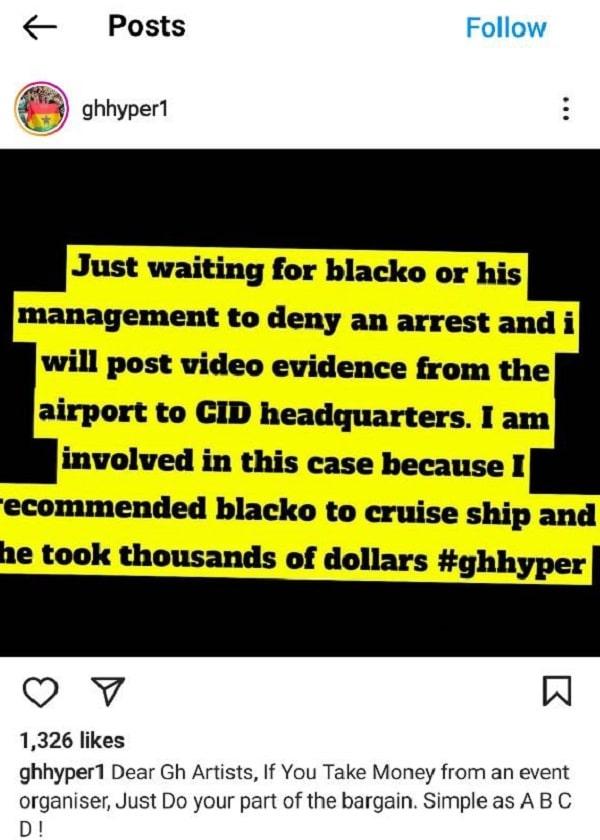 As we await further updates and official statements from relevant authorities, fans, and the public are left wondering about the circumstances surrounding Black Sherif's arrest.
Rest assured, we will be closely monitoring the situation and will provide updates as soon as they become available.
Watch: Black Sherif drops 'Oh Paraise' music video
For Latest , showbiz, celebrity gist, and gossip stories like this, feel free to visit our Entertainment Page.
Do you enjoy reading from Townflex? Do You Want Notifications From Us On Our Latest Post? If so, click on the Red bell icon below to subscribe to our feed, which will appear in your smartphone's notification after we publish a new article. You may also follow us on Twitter at @Townflexgh, Facebook at Townflex, Telegram at @Townflex, Townflex on Pinterest, Townflex on TikTok, Townflex on YouTube, and Townflex on Google News.