U.S. Secretary of State Antony Blinken embarked on a diplomatic mission to address the Israel-Hamas conflict, which has raised concerns about its potential to escalate into a wider regional crisis.
Blinken's efforts have focused on finding a solution to the ongoing conflict while emphasizing the importance of safeguarding human lives and dignity.
During his visit to Egypt, Blinken reaffirmed the United States' support for Israel's efforts to counter Hamas.
However, he underscored that the way Israel conducts its operations matters, urging the nation to prioritize the protection of civilians and adhere to shared values.
Blinken's visit to Egypt followed a series of meetings with Arab leaders as part of his proactive approach to prevent the conflict from spiraling further. His discussions in Cairo included a meeting with Egyptian President Abdel Fattah el-Sissi.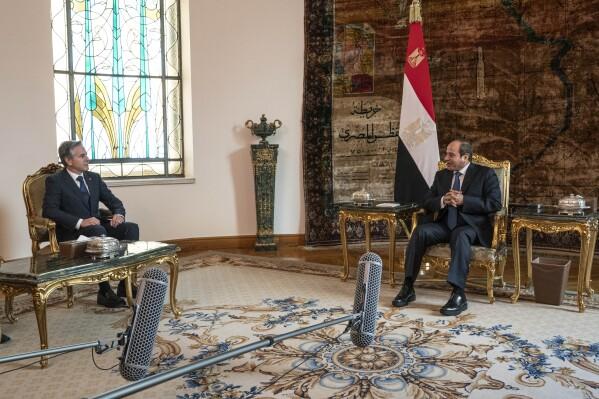 READ ALSO: Russian governor reported to police after saying there's no need for war in Ukraine
Egypt expressed its concerns about Israel's Gaza operation, characterizing it as extending beyond the right of self-defense and turning into collective punishment. This criticism was the strongest public response Blinken encountered during his regional tour.
Despite the challenges and divergent perspectives, Blinken's engagements with Arab leaders have provided a platform for dialogue and the exchange of ideas.
He acknowledged the constructive discussions and practical proposals aimed at providing assistance to Palestinians in Gaza and addressing the broader issues affecting the region's future.
Blinken's itinerary included meetings with Saudi Crown Prince Mohammed bin Salman in Riyadh, as well as discussions with leaders from the United Arab Emirates, Bahrain, Qatar, Jordan, and the Palestinian Authority.
These interactions represent a concerted effort to build consensus and work toward a peaceful resolution to the ongoing crisis.
READ ALSO: Tanzania unveils its first locally assembled aircraft, Skyleader 600
As the situation in the Middle East remains fluid and complex, Blinken's diplomatic efforts highlight the United States' commitment to finding a path toward peace and stability in the region.
While challenges persist, the secretary of state's diplomatic endeavors underscore the importance of dialogue, cooperation, and a shared commitment to upholding human life and dignity in the face of conflict.